I was in Baltimore for the large antique show at the Convention Center, and learned from one of the show dealers that Betty Cooke has a shop in Baltimore called The Store Ltd. I called the shop and took a taxi out to the shop on Saturday morning before going to the show.

The Village of Cross Keys is a an older, smaller shopping center which has been nicely maintained. It is located on Falls Road, just off Interstate 83 and a few miles north of downtown Baltimore.

The Store Ltd. has two shops in the center, both owned and operated by Betty Cooke. One carries home decorating items, watches, toys and stationery. The other has artisan-made women's clothing and Betty's jewelry. About half of the latter shop is devoted to the clothing, all of which is selected by Betty and hand made for her shop. She can arrange custom fabrics and sizes of the pieces that she carries, and when I was there had several Japanese-style wrap jackets made of Tyvek (the building construction material.) The rest of the shop is Betty's jewelry. If you arrive through the Radisson, you will come to the home design store location first; the clothing and jewelry location is further along and has "Betty Cooke" written multiple times on the windows.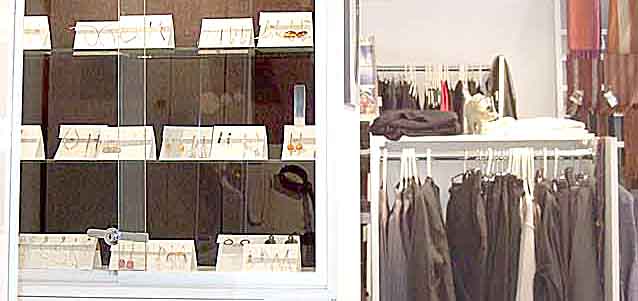 When I arrived at about 10:30 am, there was no one in the shop except two salespeople. There are many cases displaying Betty's jewelry, with at least 100 designs offered, including several standard designs for which she is well known and has produced consistently for many years. Betty also regularly displays several one of a kind pieces. All of her cases are white: white background, white display cards for the earrings, white walls inside and out. There are several vertical cases for hanging necklaces and earrings in addition to horizontal cases for pins, bracelets and rings.
| | |
| --- | --- |
| When I expressed my interest in Betty's jewelry, the shop salesperson told me that Betty was in the shop and asked her to come out to meet me. Betty is over 80 years old and is a petite, very energetic and much younger-looking person with stylish short white hair. She wore black pants and a casual black sweater and one of her signature gold "tube" "hanging strings" necklaces. She was gracious, cheerful, and intensely focused on her jewelry and her designs. She was also very willing to discuss her shop, the history of her work and her current focus as a shop owner. | |
The Store Ltd. has been the primary sales venue for Betty Cooke jewelry since she opened it as one of the original retail tenants of Village of Cross Keys forty years ago. She said that the Museum of Modern Art shop sold her jewelry at one time. The Maryland Institute, College of Art had a show of her work in 1995. She has and sells in the shop the catalog of that show (cost $30.).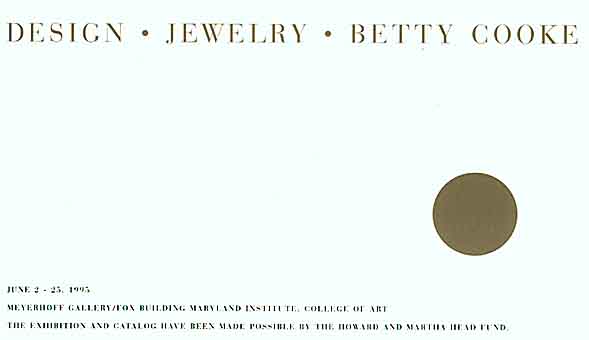 Betty loves her jewelry. She has a Xerox copy of every piece that she has ever made, and will not only repair any piece if someone requests it, but will upon request make any design that she has made previously. She is also willing to make custom pieces upon request.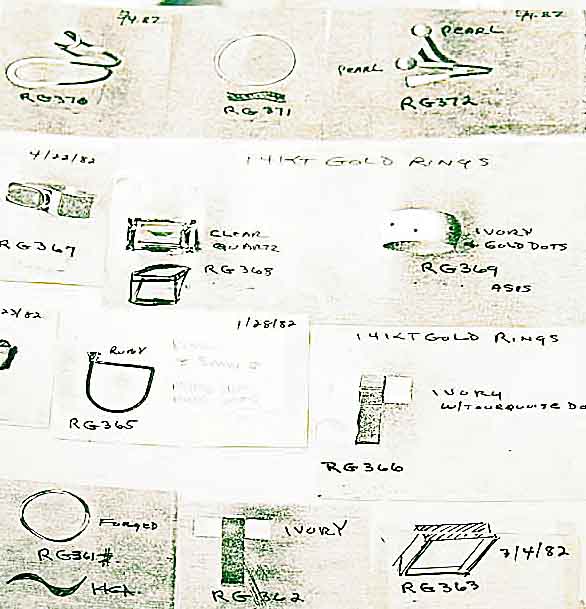 | | |
| --- | --- |
| She mentioned her forty-year association with Herbert Rouse and his wife, for whom she made a different custom-designed piece each year for the wife's birthday. (Many of the Rouse pieces were displayed in the 1995 Maryland Institute show.) She did say that toward the end of forty years, it became more difficult to come up with distinctive ideas for the pieces! She showed me a couple of pictures of the Rouse pieces in the Maryland Institute show catalog, and told me how she always included the wife's age for that year in the design - the design for the 65th birthday is a stylized 6, done in six wires, and a 5, done in five wires. The design for 68 is a loose "6" depicted on the left side loop of a gold neck wire, with two opal disks, stacked vertically along the right side of the neck wire, forming the number "8". | |
I told Betty about the three pieces I already own, one of which is a silver necklace which spells out a message that I haven't fully deciphered, but which includes the words "charm joy love." Betty remembered the piece, which was purchased by a Baltimore dealer at the auction of the estate of Betty's friend Ann Boucher. She invited me to send her a Xerox of the necklace and she will try to decipher the entire message for me.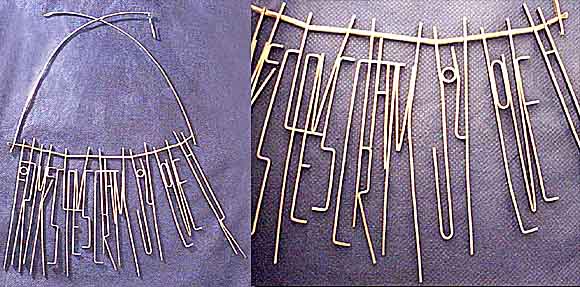 | | |
| --- | --- |
| | She also remembered the other two pieces, one a thin gold neck wire with an abstract loop in the front, and said that this was an earlier version of the thicker looped neck wire design she is doing now. The third piece, a neck wire with a dangling pendant of gold and silver letters in the shape of a heart, constructed from square sterling wire, was done by her for a benefit. She didn't recall the specific symbolism of the letters but does remember the piece. |
Betty has certain favorite designs, currently a strung necklace of very narrow diameter gold tubes with a center hanging "tail" and small gold disks soldered perpendicular to the tubes at uneven intervals. Before packing this piece in its box for me, she said several times that this would be the last item packed as she wanted to "pet" it before it went away. Her sales assistant later told me that she had previously refused to sell this piece to another customer and insisted that the customer wait for her to make a second version of the piece. (click here to see necklace)
Betty was wearing a ring featuring a thick wire U shape shank, with a flat gold disk on one end of the shank, lying horizontally across the back of the hand, and a matching gold disk on the other end of the shank, standing vertically and perpendicular to the flat gold disk. Betty makes this piece in sterling, gold, or a mix of gold and silver (one disk in each metal) and in different size disks, depending on the preference of the customer. This is one of the designs for which she is known, and has been in continual production since she first made it twenty years ago. She told me that she made it specifically because someone told her that it couldn't be done (that the vertical disk would break off) and that she had worn this ring continuously for the past twenty years ("hah!" she exclaimed to me triumphantly, at the success and durability of the design.)

Packaging: Betty is very attentive to design and presentation. Her Maryland Institute show catalogs are wrapped in dull gold paper and tied with white ribbon. Each of her jewelry pieces, when purchased, is individually tucked in purple tissue paper and put into a white box signed by her on its top, with The Store Ltd. business card inside, then wrapped in paper and tied with a purple or white ribbon passed once around the box lengthwise and knotted in a half knot with a ribbon loop at the top edge of the box cover. Every box is tied identically. If a box top isn't signed, she signs it. If the ribbon isn't correctly positioned, she positions it. Everything is just so.
Before wrapping and packing the pieces I purchased, Betty hand-sketched each piece and jotted down next to it the price and its inventory code (type of piece - b for bracelet, n for necklace, e for earrings; followed by s or g for type of metal; then a number for the design) on a piece of stationery. This appears to be her way of keeping track of what has been purchased. At my request, she gave me a Xerox copy of her sketches and signed them, and then insisted that my copy of the sketches (along with the original, as she took a Xerox copy for herself to keep) be put into a purple envelope with a special orange sticker closure.
| | |
| --- | --- |
| Betty said that she has people who make her designs, but that she does all of the design work and personally examines everything produced to her designs. I am not sure how much actual production work she now does. She is very attentive to marking every piece before it is sold, and when she had difficulty finding her mark on one piece that I purchased, scribed her signature on it in order to make sure that it had a clear mark. | |
The silver and gold thin diameter tubes that Betty is using for some of her current designs are strung using a mix of silk and cotton. She stressed that as long as she is alive, I should be sure to send her a piece to be repaired if it breaks or is damaged. She told me about one customer who broke the string on a necklace on a treadmill (what was someone doing wearing a Betty Cooke necklace while using a treadmill???!!) and brought it back to be repaired. She marveled at the rise in materials costs, especially the increase in gold prices since the beginning of 2006, and said that she purchases all of her materials in the spot market ("and it has been a good way to do things for a long time.")

Betty reminisced about the low prices at which she sold her pieces in the early days of her career ("when I think about selling pieces at $2.50 then") and said that many of her current customers are local and looking for birthday and bar mitzvah gifts ("and these pieces are very affordable for that.") She feels a very personal connection to many of her designs and hates to see them sell; she is involved in every aspect of production and sale of her jewelry and said that she loves it all except the pricing.
I asked Betty if it would be possible to arrange a group visit with her at her shop with some friends who are also interested in her jewelry, the next time they and I are in the area. She said that this would certainly be possible and that she would enjoy meeting other jewelry collectors. Betty was consistently charming, cheerful, very attentive to the sales process, and completely engaged with me as a customer and with her jewelry. She hand-cleaned each piece with a cloth before packing it up, and verbally mourned the loss of each piece that she particularly favored before putting it in its box.
One hour for looking at jewelry and selecting the pieces to purchase, and another hour to pack up the pieces and pay!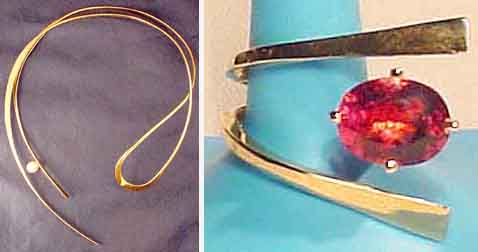 ---
---
---
Editors note: Last year, when our friend visited Betty Cooke, June & I had already left Baltimore. After our friend returned we heard about the wonderful visit and saw some of the items purchased. At that moment we knew the next time we were in Baltimore, we were going to make the time to visit Betty Cooke's The Store Ltd.
Our visit with
Betty Cooke
September 2007
by Scott Martin


Over the past year, several of us heard the above story, and have been lucky enough to have discovered some pieces of Betty Cooke's jewelry. So when we all were in Baltimore at the Antiques Show, we jumped at the chance to be included in the return visit to see Betty Cooke at The Store Ltd.
Early one morning, six of us eagerly entered the shop whereupon we immediately separated, each selecting a case of jewelry to explore. Soon the air was filled with "oohs", "ahs", "cool", "neat" "spectacular" & "that's great". When I next looked up, I saw the petite, elegant and handsome Betty Cooke standing there enjoying our comments.
Betty's sales manger, introduced Betty to each of us. Immediately we felt welcomed, at ease and somehow Betty managed to have a personal conversation with each of us.
I explained to Betty about the Silver Salon Forums and that I would like to take some photos that may become a post or an article. She very graciously told me that I may photograph anything I see. She also offered to take anything out of its case. As I looked around trying to decide where to start, Betty came to my aid again. She asked what I might be particularly interested in?
Immediately Paul Lemieux's collection of Betty Cooke's bird enamels came to mind (see Paul's Silver Salon Forum Post (click here)). I told her about Paul's collection of her enamel bird pins and asked if it would be a good place to start. Betty pointed to a case and said that was where the bird pins were. She added that it had been a few years since any enameling had been done. She proceeded to assist me by removing several pins from the case and secured a black background for me photograph them on.


While I was busy photographing the new bird pins, Betty slipped away. I guess my disappointment showed.... When she returned, she had several enameled bird pins from her private collection for me to photograph. I spent the next little while happily photographing all that I could. My digital camera soon ran out of space.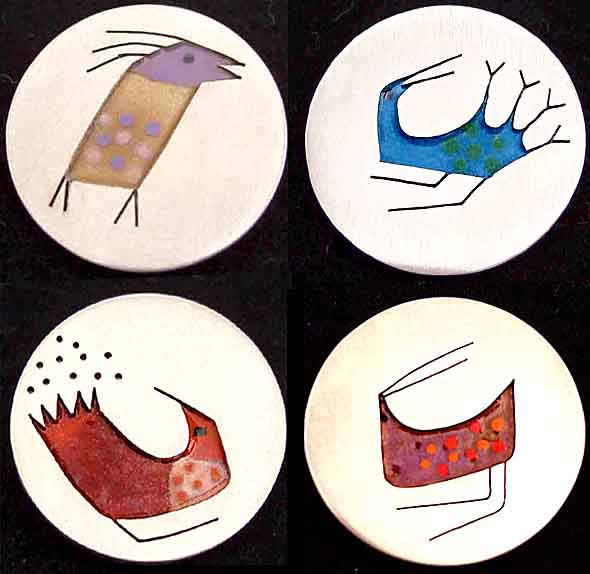 I put all the jewelry back into the proper cases and took one more long look at the enameled bird pins before returning them to Betty.
While I wasn't looking, June and the others had been very busy selecting their purchases. They had chosen some of the best available pieces. One of our group also arranged a special order. June was about to make a substantial purchase but when I saw what she had selected, I felt ever so much richer.

The check out is a very personal process between Betty and each piece of jewelry. She takes each item of jewelry into her office nook. There she says her goodbye's, makes sure each piece is properly documented and ever so gently and carefully, gives the piece one last polish and then she personally boxes/wraps each item. After each item has had its share of TLC from Betty, she personally presents the customer their purchases. It's a very proud moment for all.



June & Betty
Betty is a legend and anyone appreciative of the modernist jewelry genre should get themselves to The Store Ltd. in Baltimore. If your timing is right, you may be fortunate to meet Betty as well.
Betty Cooke
The Store Ltd.
Village Square
Village of Cross Keys
Baltimore, MD 21210
Tel. 410-323-2330
Fax 410-323-5584


More photos of
Betty Cooke's designs and jewelry
are on the pages that follow.
Contact Us | SM Publications | Silver Salon Forums