labarbedor
Posts: 353
Registered: Jun 2002

posted 12-15-2004 03:53 PM



---
At the invitation of the management, I thought I might see if there is any interest in this related field. I should say first that while I collect portrait miniatures (sometime called paintings on ivory ) , I am not really very knowledgeable, certainly not enough to qualify as a moderator.
I picked out these examples for their interest in the concept of metal craft. It is frustrating to the collector that many early portrait miniatures arenít signed. Even less common is a signed case. These examples arenít signed but the first two cases include cut down trade cards.
The first miniature is unsigned but has the trade card of John B. Dumoutet who worked in Philadelphia1793-1813, Trenton 1797, and Charleston, S.C. 1802-13. Of course there is no guarantee that he made, or even sold the case. The card could have been handy, and used as a filler, the case could have been imported and just sold by him, or it could have been repaired by him at some date. I obviously prefer to believe he made it to order for a South Carolina miniature artist. I wonít give an opinion on which one because no one would agree with me anyway, if past experiences run true. For various reasons the cases themselves are often ignored by miniature collectors. There certainly should be regional styles or differences. This one has a nice little heart or shield cut out of the hanger. While most silversmiths supplied articles in gold, few marked items have been found, and of course
except for watches few items would accept trade cards.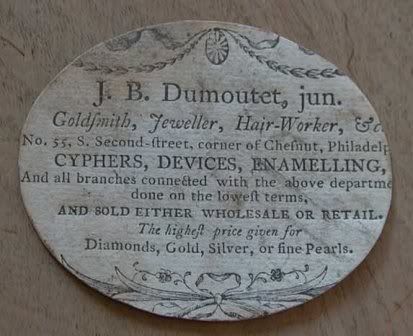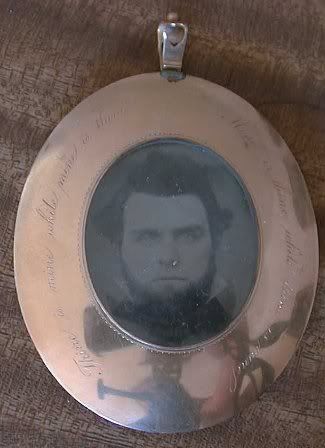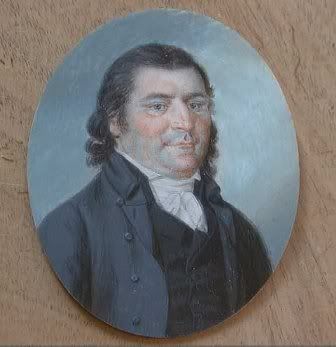 To be continued

The second miniature is much later. The trade card is of C.D. Sullivan St. Louis, 1842-68. In my opinion it is very unlikely that Sullivan made the case. It is engine turned, which is produced by a machine usually associated with major manufacturers. The sitter may be a member of the Lucas family, although it was purchased at auction.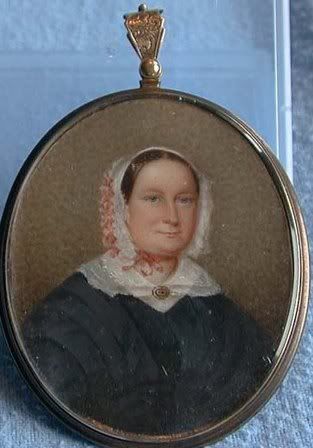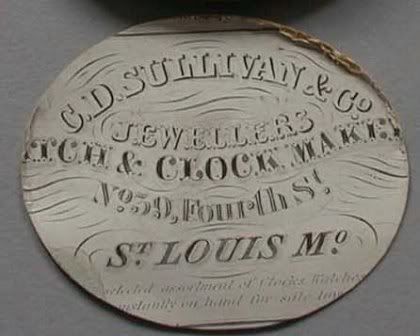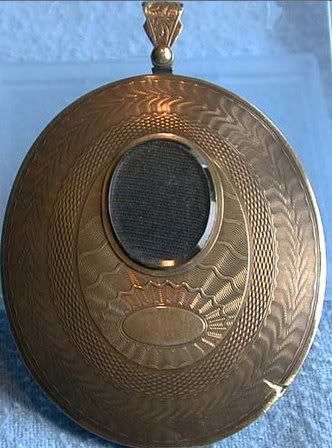 See related thread: Gold Cased Portrait Miniature Part Two
[This message has been edited by labarbedor (edited 10-17-2006).]
[This message has been edited by labarbedor (edited 10-17-2006).]
IP: Logged
swarter
Moderator

Posts: 2816
Registered: May 2003

posted 12-15-2004 06:46 PM



---
Maurice - The Dumoutet paper is too carefully cut to have been only a simple filler put there by somebody else - even though he may not have actually made the case, he must have had some association with it. I mention this because I am curious to know if Diana Cramer ever knew about the Dumoutet miniature. She had evinced a considerable interest in him, and was researching his work before her untimely death. I don't know if she left any notes, or what became of them if she did.

IP: Logged
labarbedor
Posts: 353
Registered: Jun 2002

posted 12-15-2004 10:13 PM



---
Good point, as usual. I really thought he made the case or at least sold it, but didn't think while writing the post. I was just trying to throw out all the usual attitudes. Obviously someone was careful to keep the advertising quality of the card intact. I donít remember, but I think the usual procedure was that the miniaturist would do the painting, then either send it or recommend the buyer to a silversmith. Although certainly it would work as well in reverse, meaning the miniature painter would fit a painting to an existing frame. If the silversmith was the framer or the collaborator he certainly would not pass up the chance to use his card if possible.
That is why I like the Forums, sometimes you know something in the back of your mind but need someone to be more analytical and point it out. Thanks.
While I did correspond with Diana, I didn't know of her interest in Dumoutet. Also I believe I purchased this well after her death. I am sure we all miss her, especially when considering the current quality of a certain magazine.

[This message has been edited by labarbedor (edited 12-15-2004).]

IP: Logged