FWG
Posts: 845
Registered: Aug 2005

posted 09-17-2006 05:25 PM



---
[01-2508]

Measuring just over one inch in diameter is this nicely engraved set of two pieces.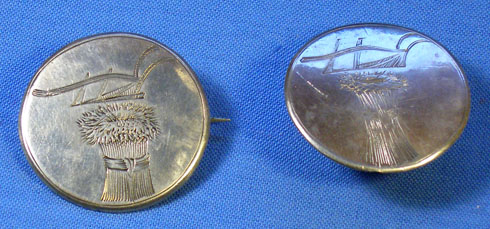 The engraving shows a plow over a sheaf of wheat, and there are sufficient differences in the engraving between the two that I suspect the one on the right was made somewhat later to match the one on the left. The one on the left is a typical pin with a wire c-clasp (although there is some visible shallow scraping on the back, which could reflect the removal of a post to be replaced by the pinback, there remain some traces of gilding on the back of this one that go right over the scraping), but the one on the right has an unusual stud-like post.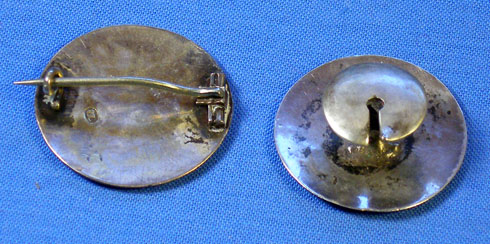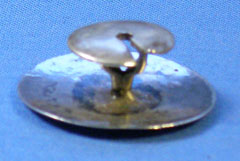 The post is split, and the round plate forming the back of the stud has a notch cut to a central hole. The two can be put together by putting the pin through the split, making something like a cufflink, but the notch isn't really necessary for that. I presume there was some special function involved, but don't know what.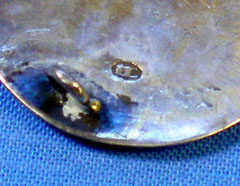 The stud-like piece has no visible mark. The pin has only a mark that appears to be most likely a conjoined IL, although turned over it could be a very dramatic D.
These appear in style most likely late 18th or early 19th century, and I would guess either American or British Isles. I have not been able to identify the mark. Also, the engraving looks like it should be representing something like an agricultural society, but I have found no matches in several years of looking. Any thoughts?
IP: Logged
wev
Moderator

Posts: 4121
Registered: Apr 99

posted 09-17-2006 07:28 PM



---
I have seen studs like that on harness medallions. A thin leather lace is looped through and around either as a tassle or as a connection to another medal. Given the size of yours and the engraving, this seems a likely idea -- fancy dress for a 19th century parade/show horse.

IP: Logged
blakstone
Posts: 493
Registered: Jul 2004

posted 09-17-2006 07:32 PM



---
Can't help much with the design - the plough and sheaf is a common agricultural motif used with many societies, clubs etc. - but the piece with the stud back is, I think, a collar button.

IP: Logged