Scott Martin
Forum Master

Posts: 11520
Registered: Apr 93

posted 02-13-2015 08:43 AM



---
A heartfelt sendoff to our dear friend, Dorothy Goldman.....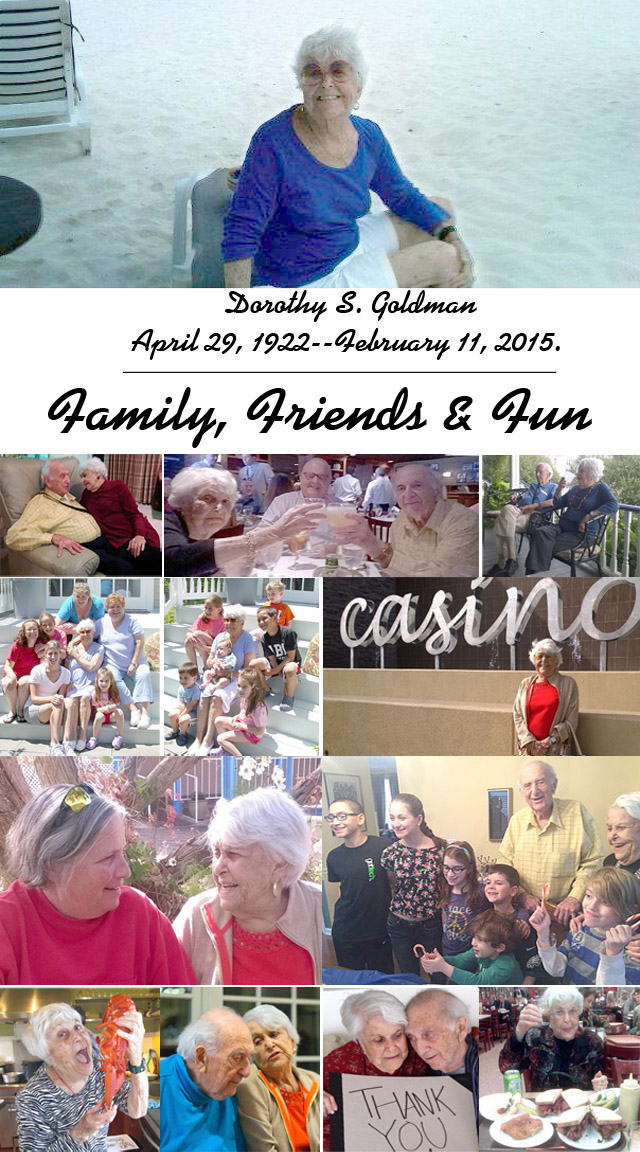 New York Times
Friday, February 13, 2015
Dorothy S. GOLDMAN --April 29, 1922--February 11, 2015. Devoted wife of 71 years to Erwin R. Goldman. Loving mother to daughter Amy Goldman and Karl Janowitz, sons Roger Goldman and Fern Portnoy, and Sam Goldman. Loving matriarch to Jodi Goldman, Cindi Goldman-Patin, Jenni Ackerman, Lee Leibowitz, Jake Goldman and Ben Goldman. Adoring and adored great- grandmother of Emily and Nate Ackerman, Hannah and Adam Leibowitz, and Max and Leo Siegmeister. Impressive grandmother-in-law to Richard Siegmeister, Carrol Patin, David Ackerman, and Melissa Leibowitz. Amazing sister-in-law to Ricki Marks and Louis Goldman. Exceptional aunt to Lydia and Emily Strong, Andy Marks, Liz Salston, Mindi Faigen, and Lisa Grayson. Friend, volunteer, supporter, and lover of her family, friends, and the arts. Crusader for social justice before it was fashionable. On the way to the hospital, she announced to one and all, that she had just had the best weekend of her life. The only thing that mattered to her was her family. When her vision narrowed due to macular degeneration, she never stopped trying to make her world bigger. Funeral services will be Friday morning at Central Funeral Home, 129 Engle Street, Englewood, NJ. 201-945-032 for time. Shiva Sunday and Monday at the Goldman residence. Donations in her memory can be made to United States Holocaust Memorial Museum in Washington, D.C.
IP: Logged
Scott Martin
Forum Master

Posts: 11520
Registered: Apr 93

posted 04-14-2020 06:59 PM



---
Today we learned about the passing of the other half of our favorite couple.

quote:

---


GOLDMAN--Erwin Robert, ("Pop"). December 28, 1922 - January 16, 2020. Devoted husband of 71 years to Dorothy S. Goldman. Loving father to daughter Amy Goldman (Karl Janowitz), sons Roger Goldman (Fern Portnoy) and Sam Goldman (Kasey Lloyd). Loving Patriarch to Jodi Goldman, Cindi Goldman-Patin, Jenni Ackerman, Lee Leibowitz, Jake Goldman and Ben Goldman. Adoring and adored great- grandfather of Emily and Nate Ackerman, Hannah and Adam Leibowitz, and Max and Leo Siegmeister. Impressive grandfather-in-law to Richard Siegmeister, Carrol Patin, David Ackerman, Melissa Leibowitz, Roni Pelleg, and loving grandfather figure to Jessi Schumacher. Amazing brother to Ricki Marks and the late Louis Goldman. Exceptional uncle to Lydia Strong, Andy Marks, Liz Salston, Mindi Faigen, and Lisa Grayson, and the late Emily Strong. Wonderful friend to Elaine Pachter. The Paterfamilias, whom generations turned to for advice. The keeper of traditions - Candy House, step pictures, and L.B.I. The storyteller. The connector of people and ideas. The man of multidimensions - interests, causes, and careers - who reinvented himself more than once - including going to law school and graduating in his 50's while working full time, and subsequently teaching law! And the spoon guy - who two weeks ago started expanding his antique souvenir spoon business because he wanted to keep busy. He was a WWII Veteran, a Bombardier in the Army, and truly a member of the Greatest Generation. Graveside service at Wellwood Cemetery, 1400 Wellwood Ave., West Babylon, NY, 631-249-2300 on Sunday, January 19th at 12:00pm. Time and place of celebration of life to be announced. In lieu of flowers, please consider a donation to the charity of your choice.

Published in The New York Times on Jan. 18, 2020


---
IP: Logged