Brent
Posts: 1502
Registered: May 99

posted 10-03-2001 04:23 PM



---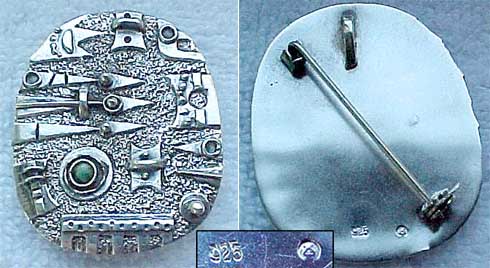 Hello all,
Can anyone help a jewelry neophyte with this weird abstract pendant/brooch? I swear that I have seen this style before, as well as the mark, which looks like a loop of string with the ends crossed over. When I bought this, I fully expected to find it in one of my new jewelry references, but of course there is nothing like it in any of my books. can anyone help?
As for the specifics, the piece is about 1 3/4" by 1 1/2", and ahs both a pin back and a pendant loop. There is a small green inset of something on the lower left side (enamel?), and several of the objects on the surface seem to be applied. Surprisingly, the entire piece, including the safety catch and pin, appears to be made by hand.
Any help would be very welcome!
Brent
IP: Logged
Paul Lemieux
Posts: 1768
Registered: Apr 2000

posted 10-03-2001 05:43 PM



---
Looks like a neat piece. Am afraid I don't know the maker. You said the mark seems somewhat familiar; I can't think of any offhand that look like it. Were you thinking of this mark:

[gone from the internet - bc.edu/~lemieuxp/skmark.jpg[/IMG]

It is for Sam Kramer, one of the best (and priciest) American Studio Modernist jewelers. Your mark sort of reminded me of it, though Kramer's mark is a mushroom & yours is something else.

I wonder if your piece is American, being it's marked 925 instead of Sterling?

IP: Logged
Brent
Posts: 1502
Registered: May 99

posted 10-04-2001 12:21 PM



---
Thanks, Paul. I may have been thinking of Kramer's mark, but who knows. My mind plays tricks on me sometimes.

I wonder if this is a currently active jeweler, whom I may have seen at a craft show. Then again, it might be foreign, as you say! Let me know if you see anything else like this.

Brent

IP: Logged
Paul Lemieux
Posts: 1768
Registered: Apr 2000

posted 10-04-2001 07:22 PM



---
Will keep an eye out for the mark...

I wouldn't be surprised if the pin is of more recent vintage.

IP: Logged