Brent
Posts: 1502
Registered: May 99

posted 10-04-2001 02:32 PM



---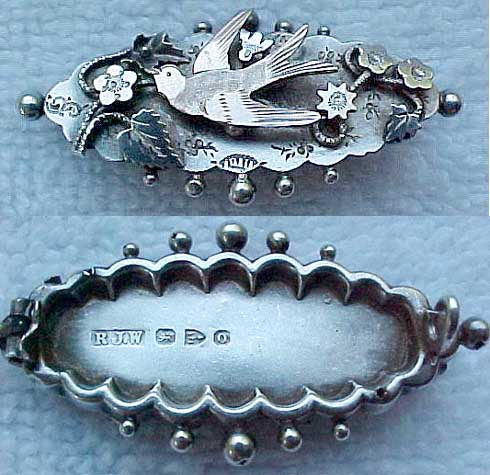 Hi all,
Here is a picture of a nice, typical English Victorian pin. Although it does not show up too well, the bird figure is gilded, making a nice contrast with the background. I also like the 3-dimensional aspect of the piece.
Most of this type of jewelry comes from Birmingham, though this particular piece bears hallmarks for Chester, 1897-98. The maker, R.J.W., may have actually been in Birmingham, as many of the pieces assayed in Chester in the late 19th century were made elsewhere.
I rather like this sort of jewelry, though the market values are not that high. I have seen some great pieces, including pieces with sea life and other naturalistic motifs, all for $150 or less. Although they were generally mass produced, they are not badly made, and they are charming. Does anyone else have pieces to share?
Brent
IP: Logged
Paul Lemieux
Posts: 1768
Registered: Apr 2000

posted 10-04-2001 07:38 PM



---
Your piece seems a little unusual in that the bird, leaves, etc. are actually raised somewhat. Often the applied decoration is placed right flat on the piece. I think yours looks better for it.

I have one pin in this style but I can't find it to photograph... It has a rose gold swallow, yellow gold butterfly, engraved plantlife & Japanesque decoration.

Here is a pair of cuff buttons:

[gone from the internet - bc.edu/~lemieuxp/acl.jpg]

These look like the English pieces, but the cuff button findings have American patent marks. It isn't a very good picture; the flowers are applied yellow & rose gold.

And here is a similar locket, but with no applied decoration. It is unmarked, which is not totally unusual for this kind of jewelry.

[gone from the internet - bc.edu/~lemieuxp/lvlocket1.jpg]

I think the most popular forms of this kind of Aesthetic English jewelry were brooches, lockets, and bracelets.

IP: Logged
Brent
Posts: 1502
Registered: May 99

posted 10-05-2001 09:28 AM



---
Nice pieces, Paul!

Yes, my pin is interesting in its 3-D construction. The back part with the engraving is basically flat. The vines and flowers on either side of the bird are applied directly to the back, while the bird and the bee are balanced on little silver balls, like the ones decorating the edge.

Brent

IP: Logged