posted 05-30-2002 11:43 AM



---
Ruskin Pottery was founded in 1898. In addition to typical wares, the Ruskin works also produced small glazed pottery plaques, which were sometimes set into silver (or occasionally brass or white metal) brooch mountings, resulting in a neat form of Arts and Crafts jewelry. The plaques provided an attractive and inexpensive alternative to gemstones. The plaques were sold unset, and jewelers purchased whatever plaques they desired for the pieces they planned to make.

Pictured here are two examples. The first is of the simplest style: an oval piece of pottery set into a plain silver mounting.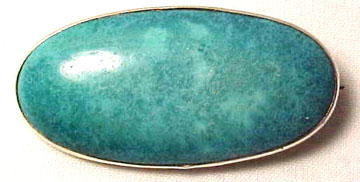 The piece measures 1 1/2" by 3/4".
The second example is shown below. Not only is the mounting more elaborate, but the Ruskin plaque itself is decorated, which seems to be quite unusual. The name "Ruth" and a simple border were added to the plaque in silver overlay paint.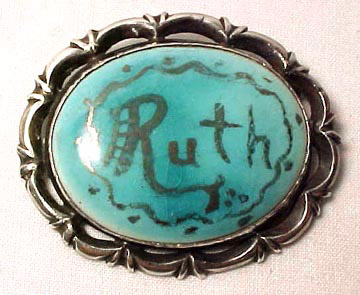 While both examples here are blue, plaques of other colors were produced as well, including yellows, reds, etc.
I have seen a few examples (on eBay and in a shop) that did not appear to contain genuine Ruskin plaques. But I don't know if these are more modern reproductions, or contemporary imitations. Also, I'm not sure if this kind of jewelry is being reproduced or still being made. The two examples illustrated here both date to about 1900-1910. Vintage pieces will have appropriate findings, patina on the silver, and often crazing or light surface marks on the pottery.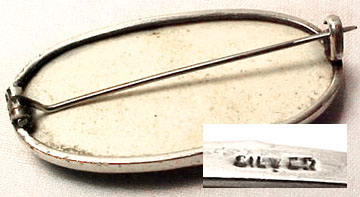 Pictured above is the reverse of the plain, oval example. This pin has the C-catch and tube hinge, typical findings of jewelry from this period.
In some instances, a piece may be marked. In the image above, the mounting's silver mark is shown (inset). Small British-made pieces of jewelry were often marked simply "Silver"; I believe if the silver was below a certain weight, full hallmarks were not required by law. I have not yet seen this simple "silver" mark on any modern English pieces. The "Ruth" example's mounting is silver, but completely unmarked.
Sometimes, but not always, the pottery itself is marked.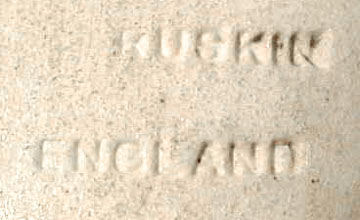 This mark is taken from the reverse of the "Ruth" piece. Although the first example is unsigned, I do believe it is a Ruskin piece.
Arts and Crafts period jewelry of this kind is apparently somewhat scarce. The two examples shown here are the only ones I have come across. Sometimes genuine pieces turn up on eBay.
A small number of examples of Ruskin pottery jewelry are pictured in Christie Romero's Warman's Jewelry (1st edition) (3 examples), Moro's European Designer Jewelry (1 ex.), and Kaplan's Jewelry & Metalwork in the Arts & Crafts Tradition (1 ex.).
IP: Logged