Paul Lemieux
Posts: 1792
Registered: Apr 2000

posted 08-07-2002 12:49 PM



---
The Howard Sterling Company of Providence was established in 1878 as H. Howard & Co. as a manufacturer of plated jewelry. It underwent various management changes until 1884 when it became Howard & Son; it apparently retained this name until 1891. In 1886, a division to make sterling silverware was established, and this was known as "The Sterling Company." I am not sure if the manufacture of sterling jewelry began at this time or at an earlier date. In 1891, the electroplate division was sold, and the company became the Howard Sterling Company. It was in business until 1891.

The Howard Sterling company is not as famous as such companies as Shiebler or Gorham, but many of their jewelry designs, if not their flatware patterns, rivalled, and sometimes topped, those of their competitors. Illustrated below are three wonderful examples of the company's silver jewelry, all dating to the 1880s.

1. The first piece is a brooch, depicting three Japanese maidens and Japanese-style lettering on either end. I think these three maidens are from some kind of Japanese folk tale, as I have seen them turn up on other period items, including trade cards. The quality is very fine, and the pin catch is actually very similar to the kind found on many Shiebler pins.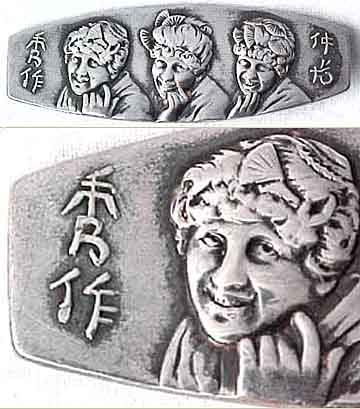 2. Next is a pair of cuff links. These are rectangular and feature a raised design of a young girl, almost like a Kate Greenaway character. One of the company's specialties was lever cuff and collar buttons, of which this pair is an example. The lever mechanisms on these cuff links are also marked with a Howard Co. mark, as well as an 1881 patent date.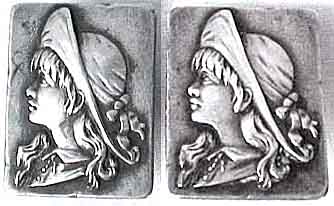 3. Finally, here is a large belt buckle. With seaweed, sand, shells, and a crab, the decoration is similar to some Gorham marine life designs of the 1880s. The piece is very heavy and well made. It's one of my favorite pieces. An identical buckle is illustrated in the SMP Collector's Eye on buckles & pins.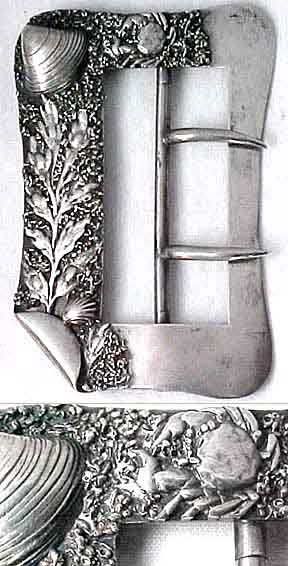 The company's jewelry is signed with either of the two following marks.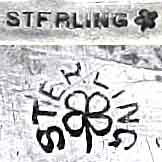 IP: Logged
Brent
Posts: 1507
Registered: May 99

posted 08-07-2002 02:45 PM



---
Hi Paul,

Great stuff: thanks for sharing. I would wager that the Japanese brooch actually depicts the "Three Little Maids From School" from Gilbert & Sullivan's "The Mikado". It opened in New York in August of 1885, and was , and remains, very popular. Sometimes the parts are played by men in drag, which would explain the decidedly non-Asian, masculine appearance of the characters on your brooch.:-).

Brent

IP: Logged
cheryl
unregistered

posted 08-07-2002 11:45 PM


---
This discussion of the four-leaf clover mark on sterling jewelry is very helpful. For some time I had thought that the four leaf clover mark on jewelry, most frequently with the word "sterling" in a horseshoe shape around the four-leaf clover, was the mark of Parks Bros & Rogers of Providence.

Based on the information in this discussion, it seems more likely that the maker is Howard & Son. Rainwater & Redfield (4th edition) states that Howard & Son of Providence disposed of the electroplated goods branch of its business to Parks Bros & Rogers in 1891 but kept the silver goods portion of the business and at that point changed the name to Howard Sterling Co. If this history is correct, than it suggests that sterling jewelry with the four-leaf clover mark is, as you say, Howard Sterling Co. or The Sterling Co., another name used by this company, rather than Parks Bros. & Rogers.

Another jewelry maker which used a four-leaf clover mark is H.F. Barrows & Company of North Attleboro, Mass.

I have seen the four-leaf clover mark, with "sterling" around it in a horseshoe shape, a number of times on jewelry pieces, most often pins. As mentioned by the moderator, the fittings for the clasps of pins can be identical to those found on pins made by George Shiebler. This maker also frequently used heraldic motifs which are similar to those used by Shiebler. The mark in my experience appears less frequently on buckles, and I agree that the sea life motif buckle posted by the moderator is a particularly beautiful design.


IP: Logged
Scott Martin
Forum Master

Posts: 11520
Registered: Apr 93

posted 11-12-2016 06:28 PM



---
The Jewelers' Circular and Horological Review.
pg 29
Volume XX. NEW YORK, DECEMBER, 1889. No. 11.

Honor to the Trade.

We present our readers this month with a portrait and sketch of Hiram Howard, of Howard & Son, Providence, R I, who on the 18th of November, received the unamimous nomination of the local Democratic convention for the office of Mayor of Providence. Hiram Howard was born in Woodstock, Conn., Nov. 26th, 1834. He received a common school and academic education in his native town, and when 18 years of age he went to Providence, and obtained employment with the firm of Moulton & Rodman as bookkeeper. His ambitions being more metropolitan than could be gratified in his adopted city, he went to New York and engaged with T. B. Bynner, the well known jobbing jeweler, remaining in his employ until 1858, when he was admitted to a partnership, the name of the firm being changed to T. B. Bynner & Co. He remained a member of the concern until 186 r, and then enlisted in the 2d Regiment Artillery, New York Volunteers, and was honorably discharged after three years' service. He again engaged with T. B. Bynner in 1864, as traveler, was soon admitted into the firm, and remained a partner until 1874. From March 1 of that year until January, 1875, he was with the firm of L. A. Kotzow & Co., selling their product of solid gold chains. He then formed a partnership with Mr. Nicoud, under the firm name of Nicoud & Howard, importers of watches, which relations lasted until 1880.



But during the meantime, in the year 1878, Mr. Howard began at Providence in a small way the manufacturing jewelry business, under the firm name of H. Howard & Co., making a line of sets, which during those days were popular with the trade. Thus when he relinquished his partnership with Mr. Nicoud, he had a business started which required his undivided attention. It had always been the desire of Mr. Howard to be at the fountain head, for as long ago as he had relations with Mr. Bynner, he worked persistently to get the consent of his partner to enter the manufacturing business, wishing to offer to their customers goods of their own design and make, rather than depend upon the skill of others to produce the articles they could handle. In 1884 his son, Stephen C. Howard, was admitted a partner in the business, and the firm name adopted was Howard & Son, remaining the same ever since. Mr. Howard has been connected with manufacturing about ten years, starting small, and doing a safe, steady and constantly increasing business. In the fall of 1885 the firm conceived the idea of adding a separate branch to their line of production, and the Sterling Company was formed, which from the start has been a ready means of increasing their sales and bringing them into the acquaintance of a new line of customers. In this short period the productions of the Sterling Co. in silver have taken a rank with the best in the land in this line of industry. In 1887 the growth of business rendered a removal necessary, and the desired accommodations were found in the new building of Kent Sc Stanley, 7 Eddy street, where these two concerns occupy one of the best appointed factories in the city.

Mr. Howard has been connected with the Manufacturing Jewelers' Board of Trade since its organization, and for the past year has been a member of its Board of Directors He is also a member of the Vue de l'Eau Club, and the Rhode Island Yacht Club, of Providence, Eureka Lodge, No. 243, F. & A. M., of New York City, and the Reform Club of the same city, and he is also a member of the present Legislature. He is one of the most public spirited citizens of Providence, and has a large circle of friends in both social and political spheres. If he is elected to the mayoralty, Providence will be assured of an energetic and independent head of municipal affairs.

IP: Logged