Paul Lemieux
Posts: 1768
Registered: Apr 2000

posted 10-07-2002 05:45 PM



---
Here is a French silver medal. The marks are "ARGENT" with a little bumble bee to the left. These indicate the medal was struck by the Paris Mint for sale in France. The silver is of the 1st standard (.950), and the bee indicates it was made between October 1st, 1860 and January 1st, 1880. The medal is 31mm across, and it is on a wide black grosgrain ribbon.

The obverse reads "LUX EST QUODCUMQUE NOTAMUS." The center depicts symbols such as scales, tablets, a gnomon (the column-type thing on the right), and an eye. That Latin phrase is the motto of the French notoriat. Additionally, the gnomon is a symbol of the notoriat. As far as I can tell, the notoriat is France's society of notary publics or clerks. Their homepage has a history (in French); click here to see. The reverse simply states "Arondissement d'Auxerre 1838"-probably Auxerre's branch of the society opened in 1838. Auxerre is located a bit to the southeast of Paris.

The medal is signed on the front, "CAQUE F." (signature is visible in the last picture, albeit upside-down). "F." must stand for fecit. Armand Auguste Caque was born in 1793 and died in 1881. From 1822, apparently until his death, he was the royal graveur.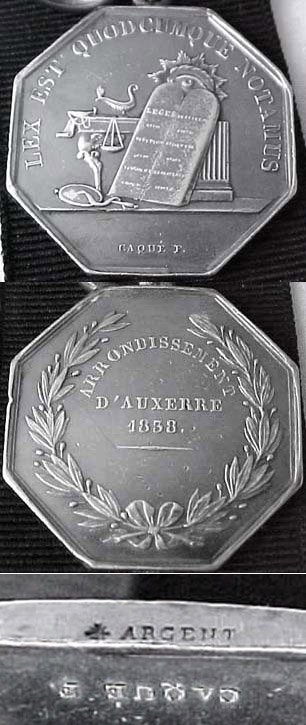 IP: Logged
JUANSI
Posts: 13
Registered: Sep 2002

posted 10-08-2002 07:05 PM



---
Beautiful medal indeed Paul
How did you get it?

It is in very good condition and as you said it is the highest quality in silver

I`d like to know if there are more or similar ones for sale.

Thank you and congratulations

IP: Logged
Paul Lemieux
Posts: 1768
Registered: Apr 2000
posted 10-09-2002 01:14 AM



---
Hi JUANSI and thanks. This medal was just in a New Hampshire group shop. The seller basically had this in a case with a bunch of costume jewelry--no other medals or any such pieces. So I've no clue about its previous ownership.

Medals aren't quite my field of expertise (I liked it because I thought the symbols on it were neat). The information I posted above came from an hour or so of web searching (the mark information is in Tardy's).

IP: Logged