posted 10-18-2010 04:45 PM



---
Stavre Gregor Panis (1889-1974), and his wife Gladys Hamilton Panis (1900-2001), were silversmiths and jewelers based in Cape Cod, Massachusetts. Together, they created a large body of fine work. Their silver jewelry used intricately pierced and chased geometric or nature-based details, and has a distinctly recognizable look and feel.

As is the case with many other studio jewelers, there isn't much written about their lives. The best record is by a photojournalist and writer named Kathy Sharp Frisbee that appeared in Cape Cod Life. Frisbee interviewed Gladys when she was 95 and still working daily in her studio. The details below are from her excellent account.

Stavre Gregor Panis came from a family of silversmiths, and emigrated to America from Dadha, Albania in 1905. Frisbee reports that:

"He began crafting silver in Boston in 1909, using the cast or mold method that was his family's traditional style. He later learned and fully adopted the pierced handcrafting style. Stavre became a US citizen in 1911. When World War I began, he served in France in 1918 with the 71st Field Artillery and then returned to Boston, where he resumed his silvercrafting business."

Gladys, whose family lived in Swanville, Maine, attended the Massachusetts Normal Art School (now the Massachusetts College of Art). While at school she met classmate Stavre Panis, and the two were married in 1927. Frisbee discussed how the two worked together:

"Admitting he had no drawing or designing ability, Stavre once asked Gladys to design some monogrammed items for him. She agreed to try, unwittingly defining their future creative work together. Success with monograms led to logos and a range of jewelry and decorative items. Their signature pieces were ornate with flower and vine detail, and cast in silver, brass, gold, and copper mediums. 'Panis pins' were their most renowned creations. Eventually, Gladys was creating the designs, producing her own silver items, working closely with Stavre on finishwork for his projects, and serving as shop operations and business manager."

"During Gladys and Stavre's years in Boston, they were invited annually to feature their handcrafted artistry in the showroom of The Society of Arts and Crafts, a prestigious art guild today located on Newbury Street. It was the only public place they chose to display their work throughout their career together."

They eventually moved to Cape Cod in 1932. According to Frisbee:

"Shortly after their marriage in 1927, Gladys and Stavre were invited to Falmouth by Mrs. Wilfred Wheeler of Hatchville, who had received one of their pins which her son had commissioned as a birthday gift. Stavre was familiar with the area. As for Gladys, the Cape was new, yet she sensed then what was confirmed to her later: 'I always felt more inspired here than elsewhere ... ocean as well as gardening themes gave me the most pleasure.'"

In 1938 they bought a small one-bedroom cottage with a small second cottage on the property. Ten years later they moved their shop to the small cottage. Stavre fell and broke his hip in 1969, and died of complications several years later. Gladys then took over the studio operation.

Eventually, Gladys found an apprentice, Mike O'Donnell, who today carries on the Panis tradition. From Frisbee's account:

"In 1991, Gladys met Mike O'Donnell, who was hired to paint her house. Licensed as a master plumber, this jack-of-all-trades became fascinated with Gladys' design and silversmithing work. As they came to know each other over the ensuing months, O'Donnell asked her if he could give silversmithing a try, and she began to instruct him."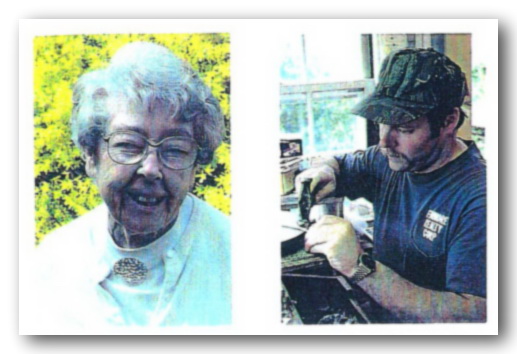 Gladys Panis and Mike O'Donnell
photos courtesy of Kathy Sharp Frisbee
IP: Logged