Scott Martin
Forum Master

Posts: 11520
Registered: Apr 93

posted 08-31-2018 04:35 PM



---
MIA/POW Bracelets
Bracelets with the names of soldiers missing in action or prisoners of war were popular in the early 1970s during the Vietnam War.
Two college students came up with the idea to honor the soldiers. The bracelets were originally produced by VIVA (Voices In Vital America), a student organization in Los Angeles. They were first offered to the public for a $3 donation on Veterans Day, November 11, 1970.
The Bracelets were made in gold, silver, stainless steel, colored aluminum, copper, and brass. Each was engraved with the name, rank, service, date of loss, and country of loss of a missing soldier.
VIVA was no longer active after 1976.
John McCain was a prisoner of war in Vietnam from October 26, 1967 to March 15, 1973.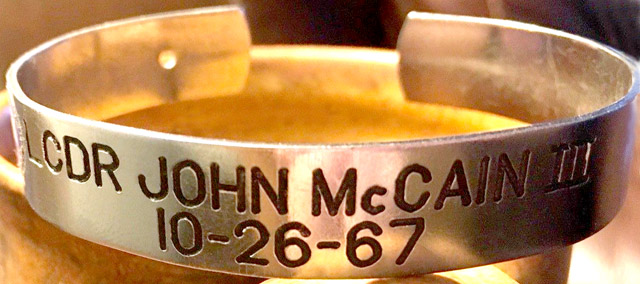 IP: Logged
dragonflywink
Posts: 993
Registered: Dec 2002

posted 09-01-2018 09:52 AM



---
I remember those bracelets, during that time, both of my brothers were in the military, one doing his three combat tours of Vietnam. Between my brothers, my cousin and myself, we pretty much present the full spectrum of political beliefs, but John McCain was always the one politician we could all agree was a man of substance. He was a patriot, a true American hero, and a fighter to the end - may his soul rest in peace...

~Cheryl

IP: Logged