Scott Martin
Forum Master

Posts: 11377
Registered: Apr 93

posted 08-30-2000 09:39 PM



---
As usual, the Baltimore Show was a wonderful venue for finding fabulous silver. Unfortunately, the prices were pretty "fabulous" as well. The Baltimore market seems to support higher prices.

A generally festive atmosphere pervailed. We met up with a lot of our long time silver friends. Here is a photo of June with Marc Cutcher of Solomon Enterprises and one of both of us at Marc's booth. The third photo is a sample of silver at Steve Lubar's booth.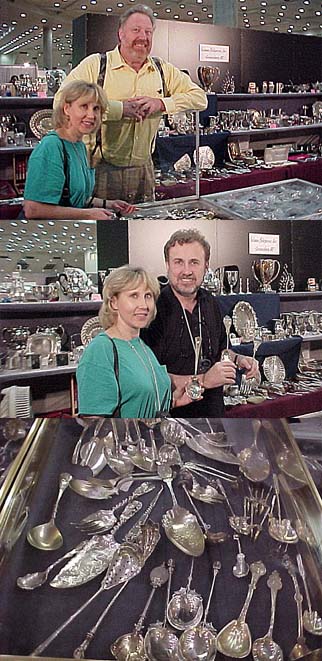 IP: Logged
Brent
Posts: 1502
Registered: May 99

posted 08-31-2000 09:06 AM



---
Baltimore is certainly a whopper of a show. At about 400 dealers, it isn't quite as big as some, but the density of silver is a amazing. Even dealers who don't specialize in silver tend to bring whatever silver they have, so about 75% of the booths require at least a casual perusal. Some of the booths might require half an hour on their own, if you really want to see everything!

As Scott mentioned, prices tend to be high. On the other hand, if you are looking for one thing in particular, you are likely to find it here, particularly in the Victorian area. Many prominent 19th century silver dealers display here; the rest come to buy!

Coin silver is a little weak, but the dealers who do specialize in it have top-quality goods. I saw a museum-quality Anthony Rasch double standing salt in one booth, cases of Southern coin, and some fine bird-back spoons. In the upper stratosphere of prices were some significant pieces of early American holloware.

One of the benefits, or drawbacks, of a show like this is that you may see multiple examples of very rare items. Case in point: Cheryl and Richard, who contribute to these forums, noted a beautiful Gorham spoon in one booth decorated with geometric designs in red enamel; they told me not to miss it! I later found a sugar sifter in the same pattern, and one dealer even had a cased set of pieces with the same pattern! This is par for the course in Baltimore; if you have never seen anything like it, chances are there are 3 or 4 for sale on the floor.

I whole-heartedly recommend a visit to Baltimore next year, especially if you fancy Victorian silver. Prepare to be overwhelmed, though, in terms of quantity, quality and cost. Plan on spending two days, too. I have done it in one, but you will feel like you missed half of it!

IP: Logged
Cheryl and Richard
Posts: 154
Registered: May 99

posted 08-31-2000 04:05 PM



---
As suggested above, the Baltimore show is overwhelming! Too good to miss, and too much silver to be able to look carefully at all the booths in just one day.

We found a Shiebler piece in the Flora pattern, probably a paper slice. It is noteworthy because it has a minor variation: a 5 band collar between the handle and the balde. Shiebler used this with other patterns, but this is new, to us, in Flora.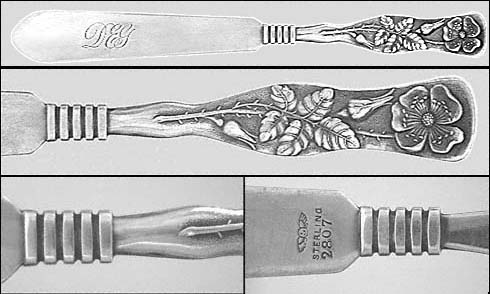 IP: Logged