posted 10-03-2007 04:51 PM



---
[11-0223]

I am not sure if this is an 'event' but in any case it is an interesting tidbit for forum members..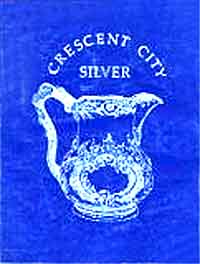 THE COLLECTION REPRINTS CRESCENT CITY SILVER
Work on History of New Orleans Silver, Silversmiths Back After 27 Years
Crescent City Silver, an illustrated catalogue first published by The Historic New Orleans Collection in 1980, is back in print. Comparing New Orleans's three intermingling silver traditions-French, American and German-Crescent City Silver features 130 pieces by 32 makers from the holdings of The Historic New Orleans Collection, the Louisiana State University Museum and several private collections.
Originally produced to accompany The Collection's groundbreaking exhibition on 19th-century New Orleans silver, Crescent City Silver has been in demand ever since, but copies have been scarce for the last several years. With biographies on each featured smith, Crescent City Silver remains the only compilation to explore the lives of the artisans and merchants involved during the silver trade's heyday in 19th-century New Orleans.
The catalogue section-which includes everything from silver eyeglasses to spoons to suspender buckles-contains a comprehensive list of all silversmiths working in 19th-century New Orleans, with examples of their work. The catalogue emphasizes the vitality of the New Orleans silver market, with a section devoted to the firm of Hyde & Goodrich, who continued into the 20th century (under several different names) as the foremost supplier of silver in the lower Mississippi Valley.
Crescent City Silver serves as a resource for both researchers and collectors. Owners of New Orleans silver may find the marks on their own pieces in the pictorial list of makers' marks. For more information about The Historic New Orleans Collection, please visit www.hnoc.org
IP: Logged