posted 05-17-2009 01:25 PM



---
The British Silver Week Masters' Exhibition
June 8 to July 5, 2009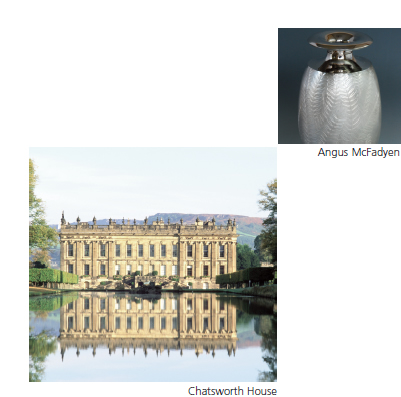 British Silver Week is mounting its most ambitious exhibition to date held at Chatsworth, Palace of the Peak and home to Duke and Duchess of Devonshire. The Duke is an honorary patron of British Silver Week 2009.
The exhibition will tell the story of British silversmithing since the 1950s, starting with sample pieces from the Pearson Collection, one of Britain's largest private collections of modern silversmithing. It will demonstrate the major influences of masters such as Gerald Benney and Stuart Devlin on contemporary silversmiths.
The centrepiece of the exhibition will be work by 12 of the UK's finest modern silversmiths who have been invited to exhibit individual signature pieces.
The final section of the show is the Pangolin collection of fine art sculptures in silver, which demonstrate how far silversmithing has progressed from producing beautiful but functional objects for the home to works of art in their own right.
In addition, demonstrations and talks by leading local silversmiths are planned to take place on three consecutive Saturdays - June 14, 21 and 30, further details to be confirmed.
The exhibition takes place from June 8 for one month in the Great Dining Room, Chatsworth, Derbyshire.
The British Silver Week Masters' Exhibition
IP: Logged