posted 01-26-2001 12:47 PM



---
A friend brought me a very interesting document yesterday. It is hand-written in full spencerian script by an able scibe. I have done a scan to post with only middling success as the ink is rather faded; the text reads:

Testimonial

At a meeting held by the passengers on board of the American Ship Milwaukie on its arrival Dec 8th 1859 at the port of San Francisco via Honolulu S. I. from Melbourne:

Resolved that Capt. Chas. H. Rhodes be presented with a silver goblet & a written testimonial as a token of our Esteem for the Courteous and gentlemanly treatment we have received at his hands during our passage to this port.

Resolved: That this Testimonial be framed and
placed in the hands of Capt. C. H. Rhodes,
with the assurance that he will ever be held in grateful remembrance by the undersigned Committe of passengers.

[signed by]

John Henry Anderson
John W. Crawford
John Edgerton
John W. Conner
John Wilson
Edw. Watson: Presnt.
John Henry Anderson, fecit: Secy.

I have done some searching for records of the ship and its captain, but have not found anything yet. And what of that silver goblet? Was it indeed presented? Was it made to order in San Francisco? By whom? And has anyone seen it since?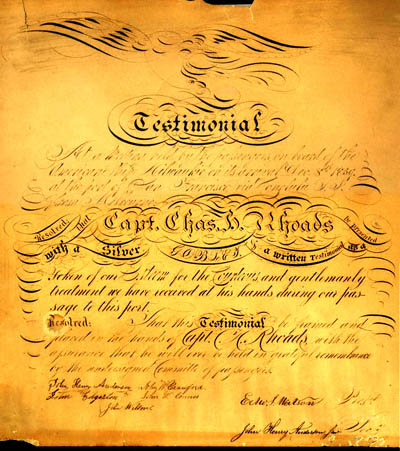 (Click image to enlarge)

IP: Logged