wev
Moderator

Posts: 4095
Registered: Apr 99

posted 11-25-2002 12:08 PM



---
I picked up this billhead last week, but it seemed appropriate to wait a bit before posting it given it was first put to use 123 years ago today, 25 November 1879.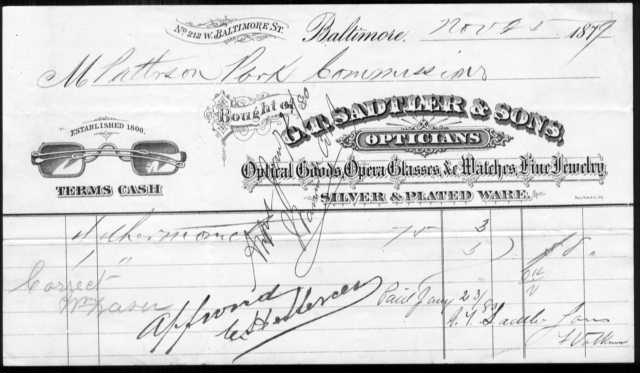 The Sadtler Company was begun by John Phillip Benjamin Sadtler, who immigrated from Germany in 1798 and, after a short partnership with William Pfaltz, established an optical and jewelry firm on Baltimore Street in 1803. Sadtler was a fastidious and painstaking craftsman and quickly gained a high reputation for his goldsmithing and watchmaking. At his death in 1860, the business was continued by his son George T. Sadtler. He was soon joined by his own sons, George W. and C. Herbert, the company name changing to that seen here. George T. died in 1888 and C. Herbert in 1899. George W. continued on with Fernando Volkmar as a partner until his own death in 1919. The firm stayed open another four years before closing in 1923.
It may be a bit hard to read, but the bill is for five thermometers sold to the Patterson Park Commission, four at 75 cents and one at 5 dollars (must have been for the boss) and was paid in full on 23 January 1880.
IP: Logged
Scott Martin
Forum Master

Posts: 11377
Registered: Apr 93

posted 11-25-2002 01:29 PM



---
Very nice find.

I often wonder why/how things like this billhead manage to survive? And yet sales catalogs and design/production drawings from the old great silversmiths just don't seem to surface.
For example, I have only seen one piece of original Shiebler sales literature. The Shiebler sales card, which was printed on both sides, cataloged the Shiebler flatware patterns. Shiebler's production of silver flatware/holloware was very prolific & abundant. To sell so many different designs he must have had a sizable sales force. I suppose a Shiebler salesperson must have carried some samples but couldn't possibly carried one of everything. So, they must have had a salesman catalogs/brochures. So where is this paper hiding

IP: Logged
Scott Martin
Forum Master

Posts: 11377
Registered: Apr 93
posted 11-29-2016 12:58 PM



---
Sadtler Silver
quote:

---

Originally posted by hmartincalle on posted 11-28-2016:
Interested in any and all biographical, historical and personal information as well as images of Sadtler work. I am a direct descendant on my mother's side. Thanks.

---
IP: Logged