wev
Moderator

Posts: 4084
Registered: Apr 99

posted 05-09-2003 06:21 PM



---
I recently acquired this tradecard of an unrecorded (as far as I can find) silversmith, George Payne Rose, working c 1850-1880 in Elmira NY. He was born 14 Apr 1822 in Phelps NY to Hiram and Phoebe (Thayer) Rose.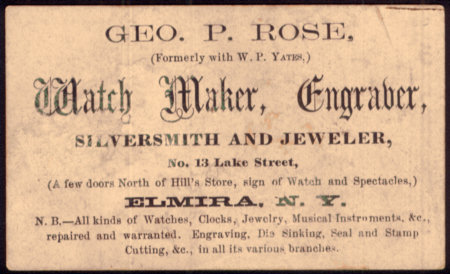 In case it's a bit blurry, the text reads:
Geo. P. Rose
(Formerly with W. P. Yates.)
Watch Maker, Engraver
Silversmith and Jeweler
No. 13 Lake Street
(A few doors North of Hill's Store, sign of Watch and Spectacles)
Elmira, N. Y.
N. B. -- All kinds of Watches, Clocks, Jewelery, Musical Instruments, &c.,
repaired and warranted. Engraving, Die Sinking, Seal and Stamp
Cutting, &c., in all its various branches.
The W. P. Yates referenced is William P. Yates, possibly Rose's master, who worked in Elmira from 1840-1850, both alone and as partner with O. Kimball as YATES & KIMBALL, 1842-1843.

IP: Logged