wev
Moderator

Posts: 4095
Registered: Apr 99

posted 07-02-2006 10:01 AM



---
[12-0117]

I came across this handsome photographic trade card a few days ago.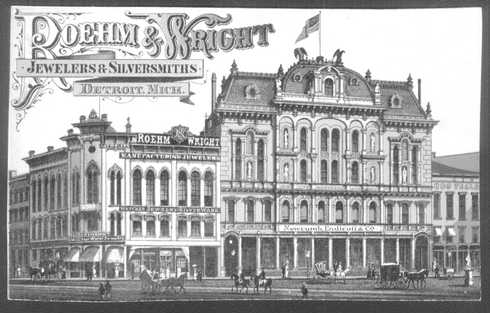 The firm's principles were Robert J. F. Roehm of Wurtenberg and Henry W. Wright, a native of Detroit. In 1880 Roehm's two sons were also with the firm; Edward (age 17) was a clerk and assistant bookkeeper and Frank (age 16) was serving a watchmaking apprenticeship.
I have not found a beginning date for the company, but Roehm's boys were both born in Detroit, so it may have been as early as 1860. The firm lasted until 1886, when Roehm left to open a store with his son Edward and Wright took John Kay and Jacob Farrand as partners, the firm becoming Wright, Kay, & Co.
IP: Logged
jersey
Posts: 1203
Registered: Feb 2005

posted 07-02-2006 05:28 PM



---
Hi Wev!
Perhaps this link might prove helpful, for both Roehm & Wright.
quote:

---

THE BOOK OF DETROITERS -- Page 384

Page 384

ROBINSON, John Henry; born, Monongalia Co., W. Va., b. Jan. 15, 1877; son of John R. and Mary E,. (Sloan) Robinson; educated in schools of West Virginia; married, W. Virginia, Apr. 16, 1900, Kate B. Henshaw. Began active career in general store owned by his brother, at Burton, W. Va., continuing for three years; became connected with the Wheeling Corrugating Co., at general offices of the company, at WHeeling, W.Va., Jan. 1899, and has been manager with headquarters at Detroit since Jan. 1906. Also president Coco-Cola Bottling Works, Columbus, O. Republican. Baptist. Recreations: Baseball, fishing. Office: 1409 Majestic Bldg. Residence: 64 Willis Av., W.

ROBINSON, Washington Irving, lawyer; born, Ogdensburg, N. Y., July 11, 1865; son of Charles Wesley and Elizabeth (McMartin) Robinson; educated in public schools of Detroit. Came to Detroit with his parents when six months of age, and is still living upon the farm (now within the city limits) upon which he was reared; has been in practice of law since 1888. Director Michigan and Ohio Electric Railway Co. Member Detroit and Michigan State Bar associations. Republican. Recreaton: Horseback riding. Office: 59 Buhl Blk. Residence: 1161 Grand River Av.

ROBSON, Frank E., lawyer; born, Lansing, Mich., July 20, 1859; son of John and Mary (Ingersoll) Robson; educated in public schools of Lansing, Michigan Agricultural College, Lansing, 1875-78, degree of B,S,M 1878; Law Department, University of Michigan, degree of LL.B., 1883; married at Toledo, O., June 10, 1885, Caroline W. Claflin. Began practice of law in office of Schuyler F. Seager, Lansing, continuing until death of Mr. Seager, 1883; in partnership with S.S. Olds as Olds & Robson, 1883-88, and practiced alone, 1888-90; removed to Detroit, and practiced in partnership with Judge Van Zile until 1893; practiced alone, 1893-05; has been senior member firm of Robson, George & Fisher since Jan. 1, 1905. Secretary and treasurer Hennepin Iron Co.; secretary Springwells Brick Co.; director St. Clair land Co., Lansing. Lecturer on private corporations at Detroit College of Law. Member Detroit Bar Association, Michigan State Bar Association, American Bar Association. Republican. Congregationalist. Club: Detroit. Recreation: Culture of flowers. Office: 720 Hammond Bldg. Residence: 48 Canfield Av., E.

---
This too!
quote:

---

THE BOOK OF DETROITERS -- Page 258
Page 258

JOY, Richard P., president National Bank of Commerce; born, Detroit, Jan. 25, 1870; son of James F. and Mary (Bourne) Joy; graduated Phillips Academy, Andover, Mass., 1890; widower (married, Ella Gertrude Hopkins, who died April 10, 1897). Began active career in engineering department, Fort Street union Depot Co., and now occupies following offices: President national Bank of Commerce (since June 1, 1907); vice president and treasurer Detroit Union R.R. Depot and Station Co.; vice president Detroit Copper and Brass Rolling Mills; director Packard Motor Car Co., Diamond manufacturing Co., Jackson, Lansing & Saginaw RR Controller City of Detroit, 1906-7; alderman Second ward, 1898-01. Member Detroit Board of Commerce. republican. Presbyterian. Clubs: Yondotega, Detroit, Country, Old Club, New York yacht (New York). Recreation: Yachting. Office: The national Bank of Commerce. Residence: 971 Woodward Av.

JOY, William S., architect; born, Detroit, June 28, 1964; son of Frederick and Martha J. (Sherman) Joy; educated in public schools of Detroit; married at Detroit, Nov. 15, 1904, Agnes Lennox. Entered office of Mortimer L. Smith, 1880, to study architecture, as was associated with Mr. Smith for fourteen yea4s; has practiced on own account, under firm name of W.S. Joy & Co., since 1894; designer of following structures: Charlevoix Apartments, Wellington Apartments, The Vendome, Marlborough Flats, many municipal buildings and considerable terrace work. Republican. Episcopalian. Recreations: Outdoor sports. office: The Ferguson Bldg. Residence: The Wellington Apartments.

KAHL, Frederick, iron foundry; born, Galion, O., July 27, 1856; son of Louis and Margaret (Greisel) Kahl; educated in Detroit; married at Detroit, 1881, Mary A. Foley. Has been a resident of Detroit since 1867; learned trade of foundryman at the old Frontier Iron Works, continuing until 1891, when he entered business in his own name as manufacturer of machinery and architectural castings, grate bars and boiler fronts. Independent in politics. Member Masonic Order (32o), Knights Templar, Shrine. Recreation: Driving. Office: 537 Atwater St., E. Residence: 382 E. Grand Blvd.


---
Jersey
IP: Logged
wev
Moderator

Posts: 4095
Registered: Apr 99

posted 07-02-2006 06:13 PM



---
And Henry Wright is listed as well:
quote:

---

WRIGHT, Henry M., jewelry; born, Hudson, O., Aug. 15, 1843; son of Philo and Electa E. (Coe) Wright; graduate Western Reserve College, AB, 1864, A.M., 1866; married at San Francisco, Calif., Sept. 23, 1872, Flora May Haight. Was a member Co. B, 85th Ohio Volunteers, at time of Civil War; came to Detroit, 1864; was connected with U.S. Lake Survey, 1865-72; became a member of the jewelry firm of Rohm & Wright, Mar., 1872; the firm being changed Mar. 1, 1886, to Wright, Kay & Co., incorporated, May, 1906, of which became president.

---
I have just finished tracing out and adding the lines of he and his wife to the tree.
[This message has been edited by wev (edited 07-02-2006).]
IP: Logged