Paul Lemieux
Posts: 1768
Registered: Apr 2000

posted 11-20-2006 10:09 PM



---
Since getting a job at Boston jeweler Shreve, Crump & Low, I have been on the lookout for interesting old ephemera from Shreve's since it would have a personal connection for me. This summer, I found two treaures at Brimfield. Sadly, the venerable store has been going through a tumultuous time in recent years, but these two items below show Shreve's during one of its greatest eras.

This is a stereoptic card from 1873. One side (not shown) shows the store in ruins following a devastating fire in 1872. The side shown below shows the "New Warerooms, Silverware Department," and notes "Gorham Sterling and Electro-plated Ware a Specialty". I can't see what's in the display cases, but there are some juicy pieces on the table in the foreground...I can make out at least 3 Saxon Stag bowls and one of Gorham's Arctic ice bowls.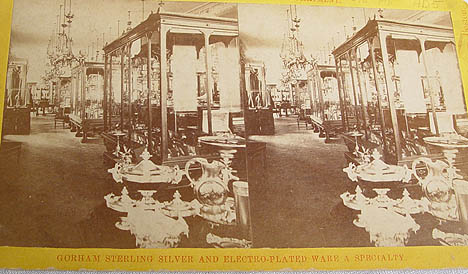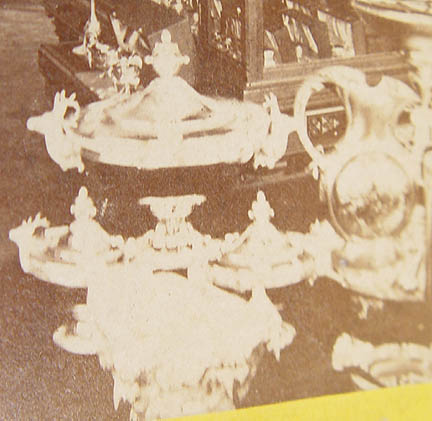 Below is a fly which tells the bearer:
You are invited to an
Exhibition
of the latest productions in
Sterling silverware
Commencing Monday, April ninth
Nineteen hundred
Shreve, Crump & Low Co. Boston
The item drawn on the left side is a Gorham Martelé ewer, of which a real example is illustrated in "Magnificent, Marvelous Martelé," catalog #25.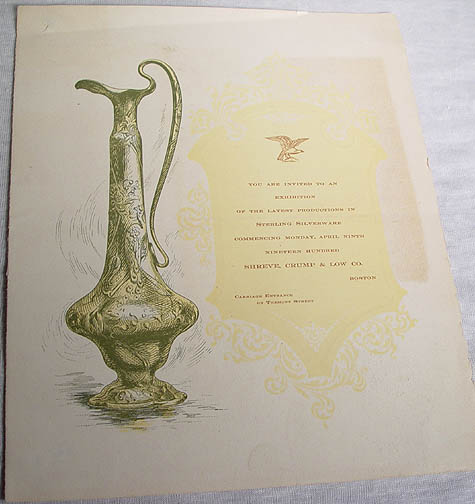 IP: Logged
Scott Martin
Forum Master

Posts: 11377
Registered: Apr 93

posted 04-05-2007 01:49 PM



---
posted BY 21Kimball ON 04-05-2007 01:19 PM in the New Members' Forum
quote:

---

Paul Lemieux's 11/20/2006 post Shreve, Crump & Low in Silver Ephemera on his acquisition of an 1873 stereopticon slide showing the destruction of the Shreve store in Boston prompts the following explanation. Shreve, Crump & Low was located at the corner of Washington and Summer Streets, Boston. It was destroyed during the Great Boston Fire of November, 1872. Ironically, it didn't burn directly from the fire itself, the Hovey store to the south on Summer Street didn't burn, so the actual fire didn't spread in that direction. Rather, the Shreve store blew up and burned from accumulated gas from leaking mains. Shreve subsequently relocated to Tremont and West Streets. The old site was then occupied by Shuman Brothers Dept. store before acquisition by Jordan Marsh, now Macy's.

------------------
Don

---
IP: Logged
Paul Lemieux
Posts: 1768
Registered: Apr 2000

posted 04-23-2009 07:17 PM



---
Upon cleaning my apartment, found two more items of Shreve ephemera I had forgotten about.

A beat-up Jones, Ball & Poor (predecessor to Shreve) trade card of ca 1850: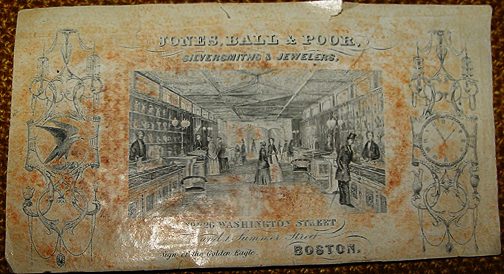 And a very interesting invitation/menu. The cover features a depiction of sailboats (this is an actual pen and ink drawing, not merely a print), a patriotic ribbon bow, and the inscription "Complimentary/to/Andrew March Jr/Oct. 19 86". The pen and ink picture is also inscribed "Hurrah! Along the foaming tide" in red ink and signed "Shreve, Crump & Low" on the bottom right corner. The inside contains one blank page inscribed "Autographs" and another page with a menu ("Rations"). I am assuming this must have been prepared by Shreve's stationery department. Have no information on the event to which it relates, but it is an intriguing piece all the same.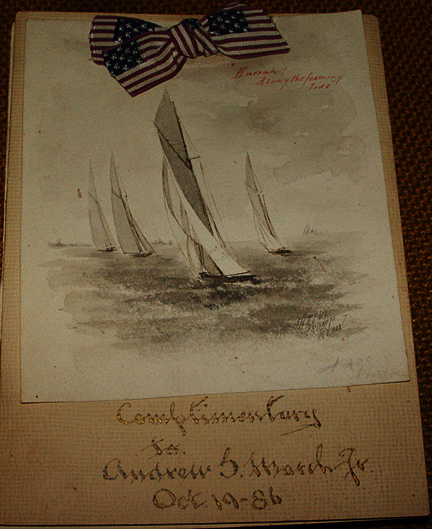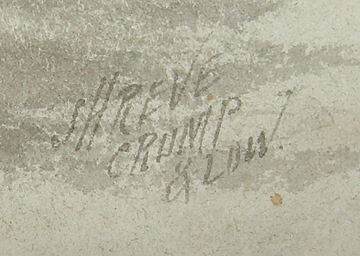 IP: Logged