chicagosilver
Posts: 227
Registered: Aug 2005

posted 09-06-2010 08:41 PM



---
Arts & Crafts metalsmiths have never received the full respect due them. One of the main reasons is that there haven't been many books or published articles showcasing their talents.

Prior to 1977 a lot of early 20th century metalcrafters were totally unknown. But that year a landmark exhibition organized by Sharon Darling, Curator of Decorative Arts at the Chicago Historical Society (now called the Chicago History Museum), brought many of these masters into the public view for the first time. Her catalog for this exhibition titled Chicago Metalsmiths has remained the standard reference work on this topic for nearly three decades.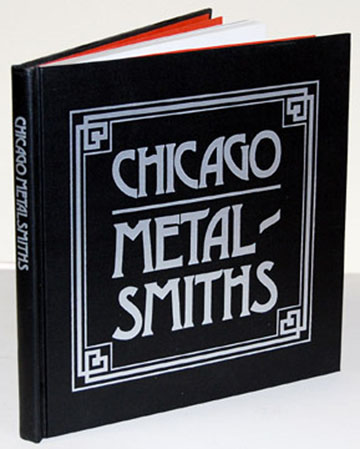 Darling's exhibition stemmed from an earlier investigation on the Kalo Shop for an article she planned to write. She eventually broadened the topic to include metalcrafters from three eras -- 1804-1890, 1890-1918, and 1918-1970. She was able to assemble 600 A-list pieces of silver, gold, copper, brass, and aluminum for the exhibit.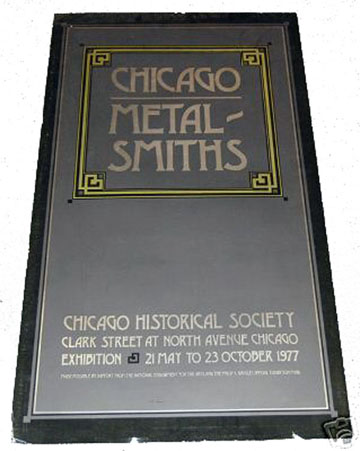 Poster for the exhibit
IP: Logged
chicagosilver
Posts: 227
Registered: Aug 2005

posted 09-06-2010 08:41 PM



---
Darling wanted to answer important questions such as "why this field attracted so many women, and how immigrant craftsmen fared upon their arrival in Chicago" and why Chicago became the nexus of metalcrafting. She also noted why silver held such a lofty position among the Arts & Crafts metalworkers:

"By the 1880s the philosophy of the Arts and Crafts movement had generated the formation of various societies, organizations, and guilds dedicated to creating and exhibiting all kinds of artistic handicrafts in England. Clay, wood, and silver were among the principal media which the Arts and Crafts reformers of the late nineteenth century found attractive. Inherent in the nature of these materials was their capacity to be transformed into objects that were at once useful and beautiful. Silver, one of the most malleable of metals, could be shaped into totally new and original forms, limited only by the skill of the metalsmith. It was the most 'human' of the metals, for to it could be attributed the qualities of warmth and life: its polished surfaces caught and played with sunlight and firelight; it quickly became hot or cold, depending on its immediate surroundings; and it was a precious metal long identified with wealth and power. To reform the design and production of silver objects would set new standards of beauty and taste for something of great value."

This is especially interesting in light of the hauteur often shown by many big-name Arts & Crafts "gurus" who wax poetic over clay and furniture but turn up their noses at silver.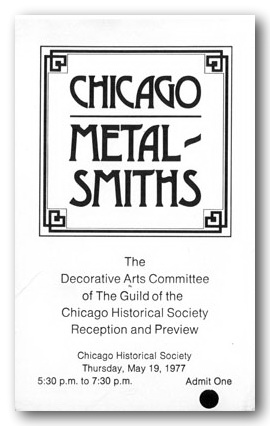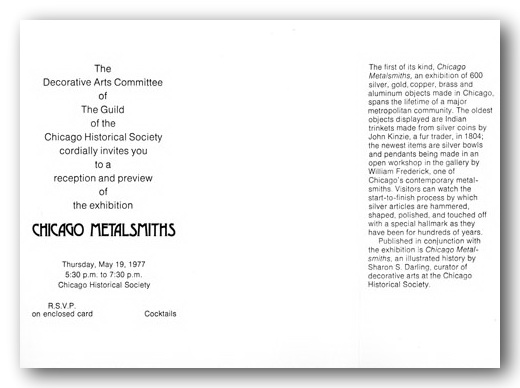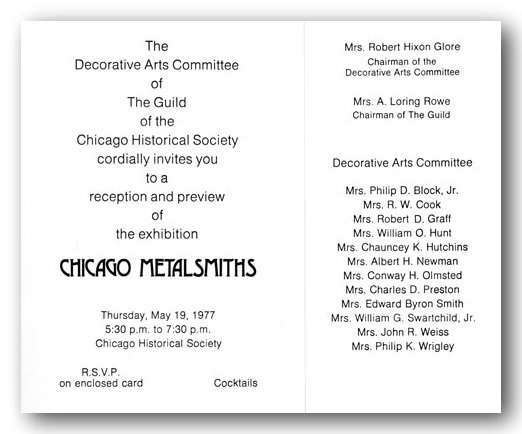 Arts & Crafts metalsmiths covered in the catalog include Carence Crafters, The T. C. Shop, Chicago Silver Co., George Grant Elmslie, George H. Trautmann, Gustafson Craft, A. Fogliati, James H. Winn, Matthias W. Hanck, Frances MacBeth Glessner, Frank Lloyd Wright, The Julmat, Hull-House Shops, Art Metal Studios, Lebolt & Co., The Jarvie Shop, Frank S. Boyden Co., Mullholland Brothers, The Kalo Shop, Boyden-Minuth Co., Falick Novick, George Washington Maher, Edward H. Breese, Petterson Studios, Marshall Field & Company, Cellini Shop / Cellini Craft, John P. Peterson, Jessie M. Preston, Chicago Art Silver Shop, the Randahl Shop, and others.
Only 1500 copies of Darling's exhibition catalog were printed in 1977 and sold for $14.95 each. Copies today go for anywhere from about $25 to well over $300.
IP: Logged
Dale
Posts: 2132
Registered: Nov 2002

posted 09-07-2010 07:52 PM



---
At the time of the exhibition, I was a fairly novice silver dealer. My understanding was that the exhibit was not well attended, primarily due to the location. The Historical Society was in the southwest corner of Lincoln Park, at North Avenue and Clark Street. Parking was a nightmare and public transit was iffy. But I did attend and learned a lot from the exhibit.

A dealer friend of mine, Riki Hoffman later Brown, urged me to attend and get a feel for the look of the pieces. Riki was quite excited by the exhibit as she felt it would create a market for the Chicago silver that she was stuck with. At the time there was very little interest in Chicago silver in Chicago, even tho there was a large supply.

AIR, the jewelry on display mainly came from the inventory of Joel Cohen. So much so that it was credited to several different collectors. At the time, the only Chicago dealers who dealt extensively in A&R jewelry were Joel and Tommy Ninniskis. Joel always had a fabulous display of A&R jewelry and pottery and some silver.

It is a sobering thought to realize that I am probably the only living silver person who attended that exhibit.

IP: Logged
Dale
Posts: 2132
Registered: Nov 2002

posted 09-07-2010 08:12 PM



---
One criticism of Darling's research is that she relied entirely on sources in English. Which is not very helpful when researching immigrants. At the time, there was still a Swedish language weekly newspaper published. And the numerous fraternal lodges like Sons of Norway, Svithiod and Svea were still going concerns. The Lutheran, Evangelical Covenant and Evangelical Free Churches also have records that would document many of the craftsmen. The Swedish Pioneer Historical Society had loads of memorabilia that might have yielded some insights. But she did not avail herself of these sources.

On silverplate, there was a minor exhibit of an Aurora silverplated cup. But nothing from Associated Silver or any other maker in Chicago. Nor from Rockford Silver which was not a whole lot further away than Aurora.

IP: Logged