Paul Lemieux
Posts: 1768
Registered: Apr 2000

posted 12-05-2000 11:15 PM



---
How many different motifs were used in Gorham's cool Aesthetic pattern Hamburg? I have a set of cocktail forks that have: 2 different fish, a dog, a frog, a grasshopper, a lobster, a crab, a squirrel, a swallow, and a group of shells next to an eel (?):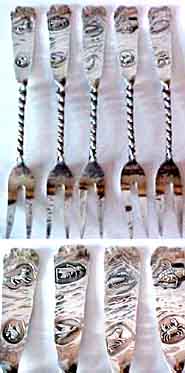 I also saw on eBay the other day a nice pie server:


It had, in addition to some of the same motifs as the cocktail fork, a butterfly, crane, more fishes, flowers and a rat.
I wonder how Gorham was inspired to use some of these motifs, especially the dog & rat. Those two animals seem to be associated with some Chinese superstition, I think. Other animals, like the fishes and crane, are probably Japanese-inspired. And I've seen pieces with cherubin faces that seemed Renaissance-like. In any event, it's a neat pattern and one of my favorites.
Most pieces seem to be marked with "C" and "Sterling," sans Gorham's lion/anchor/G mark. I know the C was used on other handmade Aesthetic pieces, I wonder what its significance is.
IP: Logged