Paul Lemieux
Posts: 1768
Registered: Apr 2000

posted 07-02-2001 04:17 PM



---
I have come across a couple of Gorham spoons, each with a mysterious mark.

The first is an orange spoon. The mark is hand-scratched above Gorham's trademark. It is a lot like an italicized, magiscule "E"; except the central line extends to the left as well (see image). I have also seen another of these spoons with the mark stamped in.

Second is a Buttercup pattern teaspoon. The mystery mark, depending on which way it is looked at, is similar in some ways to the first mark. However, it is not italicized, nor is it hand engraved; it is stamped. Viewed another way, it looks like a trident. The mark is located by the heel of the bowl, just next to some buttercup decoration.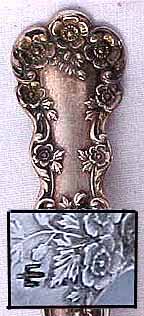 Any ideas?

p.s. Please see the Silver Jewelry forum for a Gorham mystery piece.

[This message has been edited by Paul Lemieux (edited 07-02-2001).]
IP: Logged