Brent
Posts: 1502
Registered: May 99

posted 10-15-2001 03:21 PM



---
As you may know, I am a big fan of enamelled flatware. Although enamelling on silver has been practiced for centuries all over the world, my main interests are the products of American manufacturers, especially Gorham.

The heyday of american enamelling seems to have been the late 1880's and 1890's. All of the major manufacturers produced at least some enamelled flatware at this time, and even many of the small companies, particularly in the souvenir spoon industry, jumped on the boat as well.

American enamelled flatware can be placed into two categories: enamelled versions of standard patterns, and enamelled-only patterns. In the first category we find some wonderfully decorated versions of popular patterns like Chantilly, King George, Buttercup, and others. In the second category we find special novelty designs, usually made in fairly low numbers and, to me, more interesting!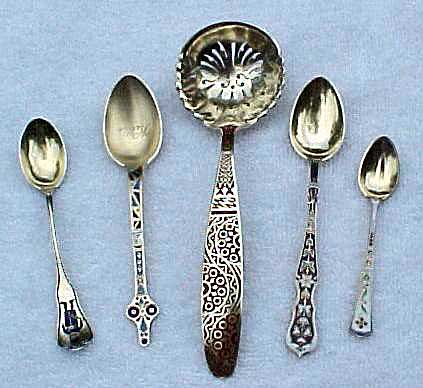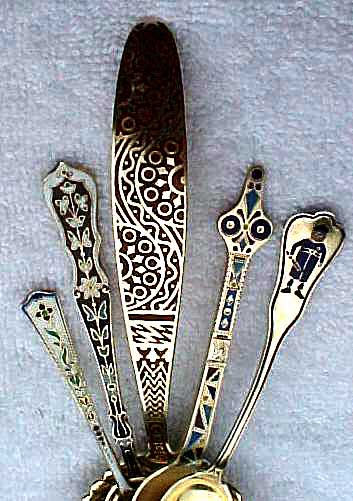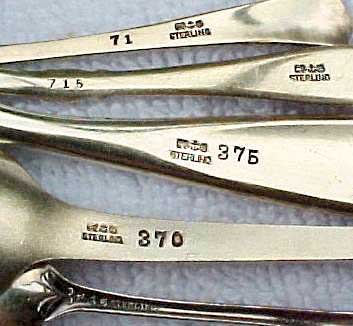 Here are five different Gorham enamels. On the far left we have a "Brownie" spoon, featuring a champleve enamelled "Brownie" policeman. Gorham made a number of pieces of enamelled children's flatware, including at least three different Brownies. Next we have a short teaspoon featuring multi-colored champleve enamels in a geometric design. I have seen at least three different flatware forms with this design, all marked with the number 370, as shown.
The middle piece is a wonderful sugar-sifter(?) with red-brown champleve enamels in a fabulous geometric pattern. Several pieces of flatware in this pattern appeared at the Baltimore Antiques Fair two years ago, but I have never seen another.
Next is a demitasse spoon with multi-colored cloisonne enamel, numbered 715. Finally, we have a tiny salt(?) spoon with cloisonne enamel, one of a set of 12, all numbered 71.
Note that all of these pieces are gold-washed, and aside from the Brownie they all have a pattern number.
Anyway, I would love to see examples of other Gorham enamels, either in these patterns or from other patterns. I know that Gorham had many different enamel patterns, and that this is but a small fraction of what is available. Anyone?
Brent
IP: Logged
Richard Kurtzman
Moderator

Posts: 759
Registered: Aug 2000

posted 11-21-2001 10:35 PM



---
Hi Brent, Here are four more Gorham enameled spoons. They are all 4 1/4" except for the second one which is 4 3/4". In sequence they are numbered, 67, 360, 48 and 65. The first one is kind of neat. It has an enameled cup and saucer at the top of the handle.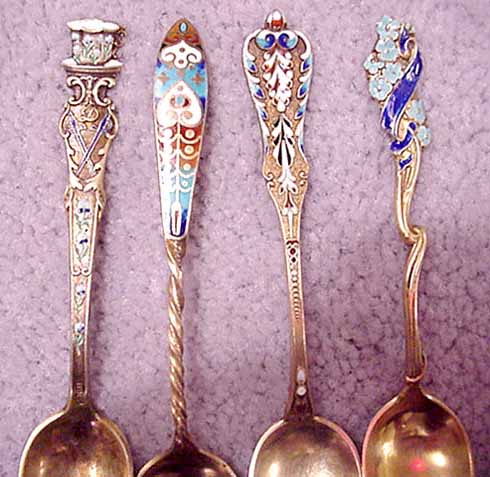 IP: Logged