Brent
Posts: 1502
Registered: May 99

posted 03-29-2005 04:05 PM



---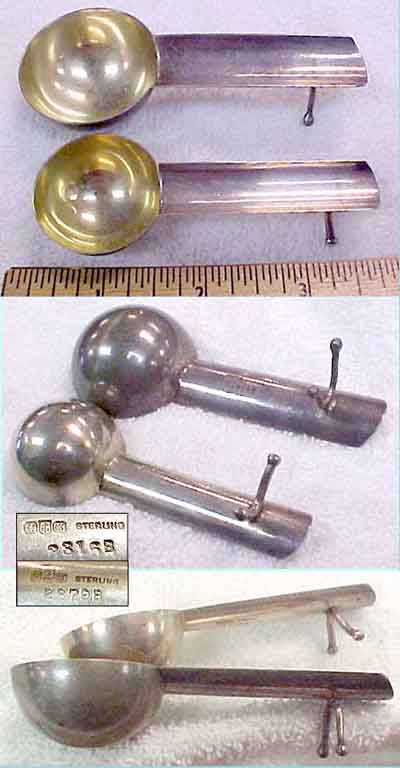 Here are two unusual little silver items that recently came to me for identification. Unfortunately, I have no idea what they are. There are six of these in the group; three of the larger size and three of the smaller. They look very much like kitchen measuring spoons with little v-shaped props to hold the handles level. I might even think that they WERE measuring spoons, except that the way the curved handles are attached, any liquid would start to run down the handle before it reached the rim.
An interesting thing about the marks. According to Sam Hough, the placement of a letter at the end of a pattern number indicates a piece made at Gorham's New York store and workshop, instead of the main factory in Providence. Though not an extensive manufacturing facility, the New York shop apparently did produce numerous small items and special order pieces, and this set may well be one. The B supposedly indicates that the pieces were made intended as a desk or toilet accessory, rather than a dining implement.
So, I throw open the pieces for discussion. Any ideas what they are?
Brent
IP: Logged
Paul Lemieux
Posts: 1768
Registered: Apr 2000

posted 03-29-2005 05:24 PM



---
Interesting pieces. I have no idea. Could they be cigar rests, the dishes being ash receptacles?

IP: Logged
Scott Martin
Forum Master

Posts: 11377
Registered: Apr 93

posted 03-30-2005 10:06 AM



---
I'm with Richard on this. I have always know them to be pipe rests. I have never seen them mentioned in a Gorham catalog.

I have also seen them used by cigar smokers but not as an ashtray. Apparently cigars can/will stop burning if you don't continue to puff. So this was also used as a cigar rest. This is better than putting the cigar down in a dirty ashtray. Most ashtrays would accept the ash but the cigar if long wouldn't rest without tipping out. Also if the cigar was left in a dirty ashtray then it might pick up undesirable fragrances and tastes. Lastly, at a desk you sometimes just need to put cigar down securely for just a moment while doing something that requires both hands.

IP: Logged