Brent
Posts: 1502
Registered: May 99

posted 08-07-2000 01:38 PM



---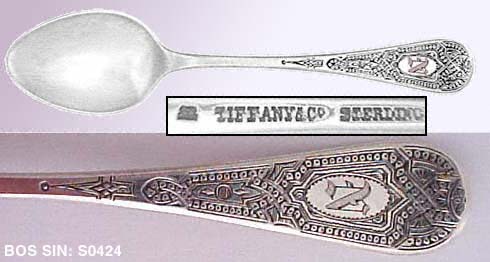 This is a spoon I have had for some time, kindly photographed for me by Scott. It is a teaspoon in what I believe to be an unpublished variation of Tiffany's Antique Engraved pattern. The "m" date letter appears to be the old one from the 1870's, which fits in with known Antique Engraved pieces. The engraving itself is quite elaborate, and seems to me to be reminiscent of the Eastlake style of furniture decoration popular at the time.
Dr. Hood's book notes the rarity of Antique Plain and Engraved pieces on the market, aside from Antique Ivy (#20). No examples of Antique Plain and Antique Engraved No. 4, which appear in Carpenter's book, were located for this new publication.
I do not have Carpenter's book, but as I recall he presents a picture of Antique Engraved No.4 as an example, almost implying that the other engraved patterns were known to him. My question is, where did he get his pictures, and how did he know the numbers of the engraved patterns he illustrated? I am just curious, as I know the new book was produced with the cooperation of the Tiffany Archives.
At any rate, I hope this can be a small contribution to continuing Tiffany scholarship.
IP: Logged
Scott Martin
Forum Master

Posts: 11321
Registered: Apr 93
posted 08-08-2000 10:43 AM



---
Brent lent us this piece to photograph for inclusion in the Book of Silver. We have catalogued it in the Book of Silver (BOS) Tiffany section as "unknown." Until research supports an official name, I suggest you use its unique BOS SIN: S0424 to distinguish this "unknown" pattern from others. A SIN number is the unique permanent Standard Identification Number which we give to every piece imaged for inclusion in the Book of Silver.

IP: Logged
William Hood
Posts: 271
Registered: Apr 2000

posted 08-14-2000 09:21 AM



---
Your spoon appears to have the correct frontal profile and upturned terminal consistent with Tiffany's Antique pattern. The engraved (and chased?) decoration on your piece would classify it as Antique Engraved. In doing research for our book (Tiffany Silver Flatware...), I found the Tiffany Archives to contain dozens of drawings for engraving designs designated for the Antique pattern, but only two of those were identified by number or name (No. 4 and No. 20, or Antique Ivy). Apparently, these are the only numbered or named versions found by Carpenter as well. Carpenter did picture No. 4. Presumably this was a piece from his own collection or from some other private collection. The few examples of Antique Engraved we have seen have been marked with the standard small m or large M. However, I would not be surprised to see such a piece marked with the variant m (appearing somewhat like a capital B lying on its back). See discussion re "date letters" in Appendix C in our book and also my response in this forum to the question re "too many m's."

IP: Logged