Ulysses Dietz
Moderator

Posts: 1265
Registered: May 99

posted 05-05-2005 10:43 AM



---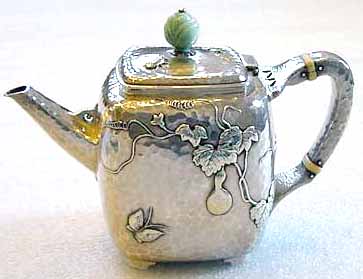 This teapot has just been purchased by The Newark Museum. It is one of TWO known examples of this form (Tiffany design number 5048 for the shape) with nearly identical decoration and hammered surface, that were shipped to Paris in 1878, right after they were made. The OTHER example (which sold at Christie's in January 2002) was exhibited and publicized in the reviews of the Exposition Universelle in 1878. This example has a gilt gourd rather than a patinated copper gourd, and a carved bud finial in jade. The import mark on this example is a "weevil," the rather snide French import mark for foreign sterling. If not exhibited at the Fair in 1878, it was probably sold through the firm's Paris store. How irritated must the French have been when Tiffany's won yet more prizes in 1878 because of the quality of their work, and their innovative new Japanese designs.
These teapots seem to have originally been part of three-piece sets. Newark's teapot was sold separately from a creamer of the same design; and the piece that sold at Christie's in 2002 had a "coordinated" sugar bowl.
So far, I have not turned up any other examples exactly like these...although a large service of the same form, with much different decoration of fish, sold and Sotheby's in 1990; and there are at least two other sets known with this form teapot, but with different decoration and without hammering.
IP: Logged
jersey
Posts: 1203
Registered: Feb 2005

posted 05-05-2005 09:16 PM



---
Hi Mr. Dietz!
The teapot is lovely. It reminds me very much of the Tiffany Vine Gourd Pattern, is that a possiblity. Jersey

IP: Logged
William Hood
Posts: 271
Registered: Apr 2000

posted 05-06-2005 03:08 PM



---
Yes, it was the successful Japanesque motifs (such as gourd) of Tiffany's Vine flatware (1872) that were the models for the Japanesque decoration on Tiffany's hollowware of the late 1870s, such as the beautiful teapot shown here (see Carpenter and Carpenter, Tiffany Silver (New York: Dodd, Mead, 1978), p. 187.

IP: Logged
FredZ
Posts: 1069
Registered: Jun 99

posted 05-06-2005 04:12 PM



---
I have seen images of some of the original Tiffany drawings for the teapots and other mixed metal items influenced by the Japanese. Yale had some impressive items on display when I went several years ago. The attention to detail and the use of Japanese alloys make the items very sensual and rich.

Fred

IP: Logged