posted 05-11-2006 02:55 AM



---
I had a bit of trouble figuring out which forum to post this in. There are two American forums, but both are for 19th Century and earlier. Feel free to move this if you feel it goes somewhere else.

In another thread there was discussion of teaset trays and rather then take over that thread I thought I might ask my questions here. I've been meaning to share this set for a while and haven't gotten around to it until now.

Here is an Art Deco International Silver hammered tea/coffee set. It reminds me of buildings I've seen in Los Angeles.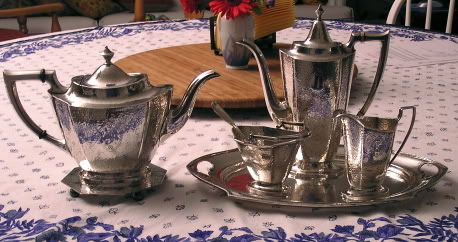 The tea pot, creamer and sugar bowl are dated 9/14/22. The coffee pot is dated 2/10/28.
Here is the tray mark: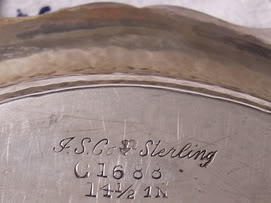 I thought that the trays were almost always plated for strength. The tray is heavy and seems quite sturdy. May I still assume that this tray is sterling or is the mark just part of the name?
Also, you will notice that the tea pot handle has ivory inserts and the coffee pot has rubber inserts. What happened between 1922 and 1928? Was ivory outlawed for use? Or was this just a way for International Silver to reduce their costs of production and ultimate cost to the consumer? I must say that the ivory inserts are more attractive then the grey rubber inserts.
Lastly, all pieces are stamped sterling except the 1928 coffee pot trivet.
It says,
"Derby S.P. Co.
International S.Co.
W.M. Mounts
EPNS
Hand Beaten"
[that's quite a mouthful for a little trivet].

So my last question is:
Is the whole tea set hand beaten or just the trivet? The tea set is marked I.S. Sterling with the knights head/shield then a pattern number and the amount each holds.

If the tea set is hand beaten then how did they get just the shields for the monograms unbeaten? Was it possible to mold silver to look beaten?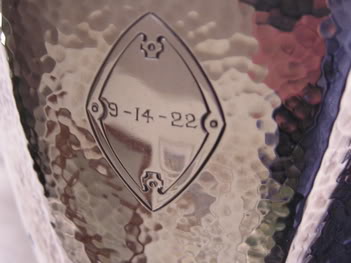 IP: Logged