Paul Lemieux
Posts: 1768
Registered: Apr 2000

posted 10-09-2001 02:54 PM



---
Many of you probably saw the nice article on bug silver in the last two issues of Silver Magazine.

Does anybody have any bug-decorated silver they would like to share pictures of?

IP: Logged
Brent
Posts: 1502
Registered: May 99

posted 10-10-2001 12:00 PM



---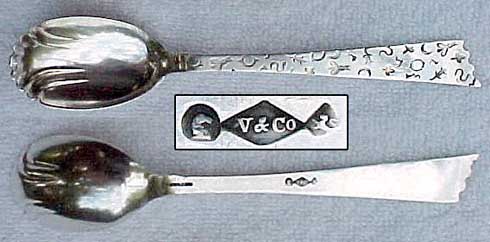 Well, here is another piece by Vansant & Co. with the same design as the one in the first article. For those of you who did not see the article, this design is a series of impressed flies, snakes, lizards, moons and other unusual symbols. On this piece, a small sugar spoon I believe, note the asymmetrical handle end.
Vansant & Co. of Philadelphia produced some highly unusual pieces like this. I have seen another piece with this same bug pattern superimposed over two classical medallion heads, to produce one of the weirdest pieces of flatware you've ever seen.
IP: Logged
Brent
Posts: 1502
Registered: May 99

posted 10-10-2001 12:06 PM



---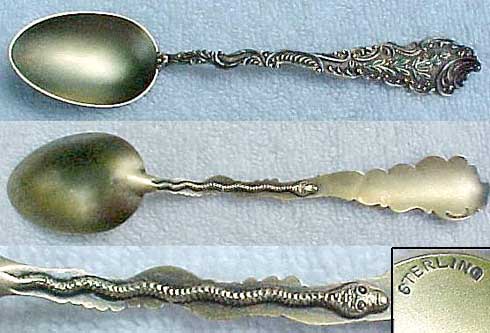 Here is another unusual piece; not a bug per se, but an oddly-placed snake. This small tea/coffee spoon was probably made by a souvenir spoon specialist, identity unknown. In addition to the goofy snake running up the back of the handle, there are enamelled leaves and flowers on the front of the handle. Also, the edges of the scrolls have been pared away by hand to produce a bright, faceted look. Truly a remarkable spoon, whoever made it. Does anyone else have pieces of a similar style or with this same curved STERLING stamp?
Brent
IP: Logged