Paul Lemieux
Posts: 1768
Registered: Apr 2000

posted 12-05-2000 10:56 PM



---
One of the things I like to collect is unusual or less common children's silver flatware. If anybody has any unusual items that they can photograph, please post a picture here...I'd love to see what's out there.

One of my latest purchases is a Gorham food pusher with a reeded handle, a fish applied to the end, and a crab sandwiched between the handle and blade. It is marked with #11.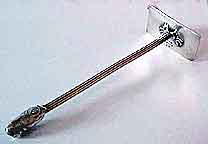 I also noticed one the other day on eBay (regretfully after the auction closed) with a similar column-like handle, except with an abstract shape at the end. It was numbered 10. If anybody has, or has seen, another member of this series, please post a reply; I would like to have a checklist of these unusual Gorham pushers. They seem to be kind of rare.
-----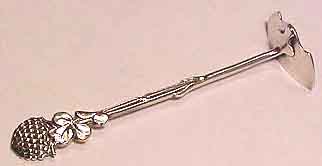 Tiffany Floral pattern pusher


"Brownie" motif doll (?) spoon by Gorham--very tiny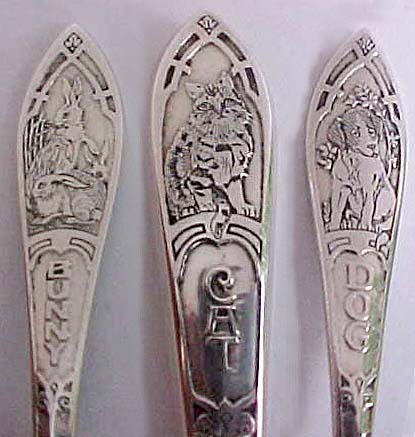 Handle details of 3-piece set by Kerr
[This message has been edited by Paul Lemieux (edited 12-05-2000).]

IP: Logged
Brent
Posts: 1502
Registered: May 99

posted 12-06-2000 08:37 AM



---
I just purchased on eBay another Gorham Brownie spoon, this one with a policeman Brownie. I will try to post a pic when it arrives.

IP: Logged
Brent
Posts: 1502
Registered: May 99

posted 12-15-2000 09:54 AM



---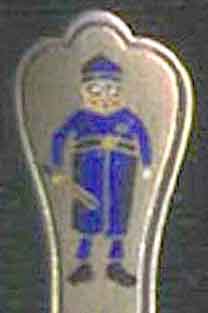 Here is my new Brownie spoon. It appears to be identical to yours in form, but this one is about 3 3/4" long. I believe your Brownie post in the Gorham forum said your spoon was only 3" long. True? Anyway, have you seen this fellow before?
IP: Logged
Paul Lemieux
Posts: 1768
Registered: Apr 2000

posted 12-15-2000 11:07 AM



---
I haven't seen that one (a London Bobby) on a Gorham spoon before; once I saw a nice Frank Whiting spoon with the bobby painted in the bowl. So it looks like there was a series of the vermeil Gorham ones. Other Brownie characters I can remember include an Irishman, Indian (Native American), a Scot, and others too.

IP: Logged