Brent
Posts: 1502
Registered: May 99

posted 12-24-1999 09:13 AM



---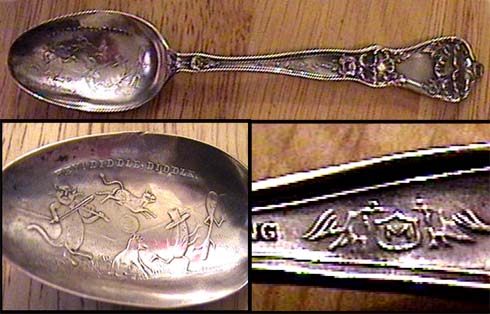 Another member sent me this e-mail:
I found this Sterling spoon while metal detecting at a house from the
1800s. It is a "Hey, Diddle, Diddle" spoon, has all the little
characters on it. There is a shield with two birds up the handle a
little ways. I have a set of Air Force silver wings that have a similar
mark (no birds), carrying the name N. S. Meyer, Inc. New York. Thanks in
advance for any info you can provide on this spoon.

IP: Logged
Brent
Posts: 1502
Registered: May 99

posted 12-24-1999 09:17 AM



---
Here is my edited reply:

Kenneth:

This spoon is what you would call a silver novelty. It was intended as a gift for a child, and may have been part of a three-piece set (knife, fork, spoon), although it would make a nice gift on its own. It is a lot like a souvenir spoon in concept, and like souvenir spoons many companies produced them.

The mark looks like the mark of the Manchester Manufacturing Company, which was founded in 1887 and succeeded by the Baker-Manchester company around 1915. They were manufacturers of silver novelties and inexpensive sterling flatware. Your spoon pattern resembles many others that were introduced in the late 1890s and 1900's. There may be a name for the pattern, if it was also utilized for standard flatware. I could not find it among the recorded Baker-Manchester patterns, though.

Basically, your spoon probably dates from about 1900 - 1915, and is a nice example of novelty silver for children.

The mark on your medal is probably unrelated, as many manufacturers use shield-like marks. N.S. Meyer is probably the name of a retailer, instead of a manufacturer, although I know little about medals. The shield mark would indicate the manufacturer.

Is there a name for this pattern, all you pattern collectors out there, or is it a special pattern for this type of spoon?

Brent


IP: Logged
Trefid
Posts: 78
Registered: Nov 99
posted 12-28-1999 08:46 PM



---
I've a 5.5-inch unpierced bon-bon spoon in this pattern. As far as I remember, it's simply known as POPPY, ca. 1900.

IP: Logged