Brent
Posts: 1502
Registered: May 99

posted 08-08-2000 10:09 PM



---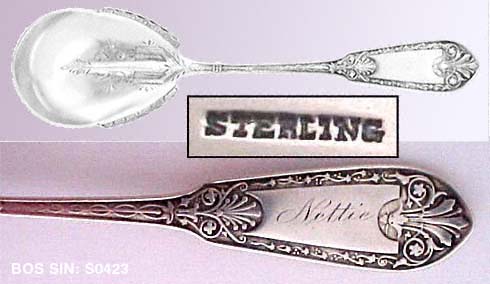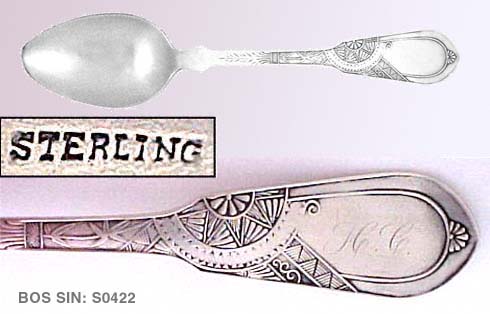 Thanks again to Scott, here are two early sterling patterns which have intrigued me for some time. I suspect that they may even be from the same manufacturer, although that is pure conjecture. Both patterns are single die struck (i.e. no design on the reverse), and are marked only with a tiny sterling stamp. Both pieces are very thin.
I have seen several examples of pattern 1 in the marketplace, but never with any other markings. Most of the pieces are flimsy, although some have well-executed engraving. Just last week I saw a set of forks in this pattern that differed in having a much broader stem, significantly greater thickness and a larger STERLING stamp.
Pattern 2 is unique to me, as I have never seen another. It is a standard fiddle shape, but the decoration reminds me of silverplate from the 1870's, when things oriental were all the rage.
Does anyone have any information that could lead to an identification of these pieces? Pieces with retailer's marks or trademarks, or pieces in their original boxes would be most useful. I suspect that the name of the manufacturer(s) is known, but the connection to these patterns has not been established. To quote Robert Stack, maybe you help "solve a mystery!!!!".
IP: Logged
wev
Moderator

Posts: 4095
Registered: Apr 99

posted 08-09-2000 01:19 AM



---
I had a demitasse spoon very similar to pattern number 2 a few years back. It lacked the small half daisy at the top of the threading, but was otherwise very close in design. It was marked Vanderslice & Co./ Sterling/Pat. I have seen other Vanderslice pieces that were hand engraved in similar style, but this was the first I'd run across that appeared entirely machine struck. I am afraid I don't have a scan of it and I gave it away rather quickly to an old widow for her rum toddys -- didn't want it desoiling the purity of my plain fiddlebacks!

IP: Logged
Scott Martin
Forum Master

Posts: 11377
Registered: Apr 93
posted 08-09-2000 07:15 AM



---
Brent lent us these pieces to photograph for the Book of Silver. We have catalogued then for inclusion in the Book of Silver (BOS) in a future "unknown" section under "unknown" pattern name. Until research supports a manufacturer and/or a pattern name, I suggest you use their unique BOS SIN numbers to distinguish these "unknown" pattern from others. A SIN number is the unique permanent Standard Identification Number which we give to every piece imaged for inclusion in the Book of Silver.

Top image = SIN: S0423
Lower image = SIN: S0422

IP: Logged
Brent
Posts: 1502
Registered: May 99

posted 09-25-2000 05:34 PM



---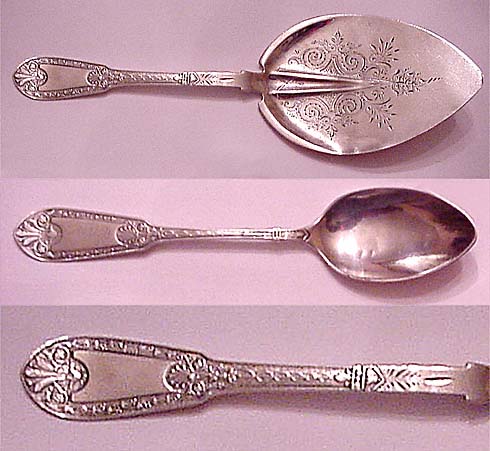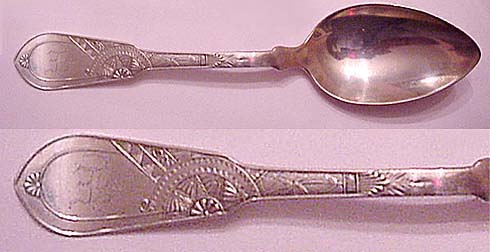 Trefid recently sent me some pictures of pieces in both of these patterns from her collection. All three pieces are marked STERLING. The teaspoon in S0423 also has the mark of C.Y. & Co., as illustrated.
Does anyone have an idea of the identity of C.Y.? It may be jsut a retailer, but it may be the elusive manufacturer as well. If anyone knows a manufacturer with those initials I would be interested to hear about it.
By the way, Trefid also thinks that both patterns are indeed by the same manufacturer.
Thank you for your contribution, Trefid!
Brent
IP: Logged