Scott Martin
Forum Master

Posts: 11520
Registered: Apr 93

posted 03-16-2008 05:36 PM



---
This is an article that first appeared in Silver Magazine January/February 2008 pages 32-43. This article has been excerpted and reproduce with permission.

George W. Shiebler (1846-1920), whose New York firm is renowned for distinctive silver—much of it designed by Shiebler himself, was a man widely regarded in his day as possessing exceptional artistic ability despite having had no academic training in the arts.1 Arguably the most innovative flatware pattern produced by the company (active 1876-1907) is the multi-motif Etruscan, introduced circa 1880-188. It features at least seventeen different neoclassical portraits stamped on crudely hammered handles of non-uniform shape and thickness with fake distressing. The line was designed to encourage the diner to fantasize he/she is eating with implements that were made in antiquity by relatively unskilled artisans and were then buried under tons of ash when Mount Vesuvius erupted in AD 79. The forms of many of the pieces are unique to this pattern.(3).
Another highly innovative Shiebler pattern is Flora, patented in late 1889. This was the first flatware designed in what is now considered the American art nouveau style and showed Shiebler to be on the cutting edge of decorative invention. There had been American floral patterns before—some three-dimensional and even entirely handmade, but nothing quite like Flora, a pattern featuring at least seventeen handle motifs (plus variations), each depicting a different flower.
An anonymous author of a Jewelers' Circular article about Shiebler patterns published in 1895 asserted: "The Flora has been one of the most artistic and successful conceptions in spoon ware ever produced." (4) The scarcity of Flora examples other than teaspoons on today's antiques market casts doubt on its original overall commercial success. Few would disagree that the pattern is an aesthetic tour de force and highly collectible now.
Collectors have been hampered by a paucity of published information on the pattern, as well as by some published information that is incorrect or at best incomplete. In his book, American Silver Flatware 1837-1910, Noel Turner asserted that there were twenty-one different motifs (without mentioning any variations) but illustrated only twelve.(5) We know of no one who has observed twenty-one, not counting the variations. In her article in the March/April 1991 issue of Silver Magazine, Diana Cramer illustrated the same twelve motifs and one new one along with two variations but did not label them.(6) In their flatware pattern index, The Book of Silver, Scott and June Martin show the original twelve plus three additional motifs (not identified) and seven variations.(7) We have observed two more motifs and two more variations. All of these are listed and described in Table 1. (8) Details of all seventeen motifs and six of the ten variations are illustrated in Figure 1 (see below).(8) On all flat (solid) handles, the design is confined to the front; on hollow handles, the same design appears back and front.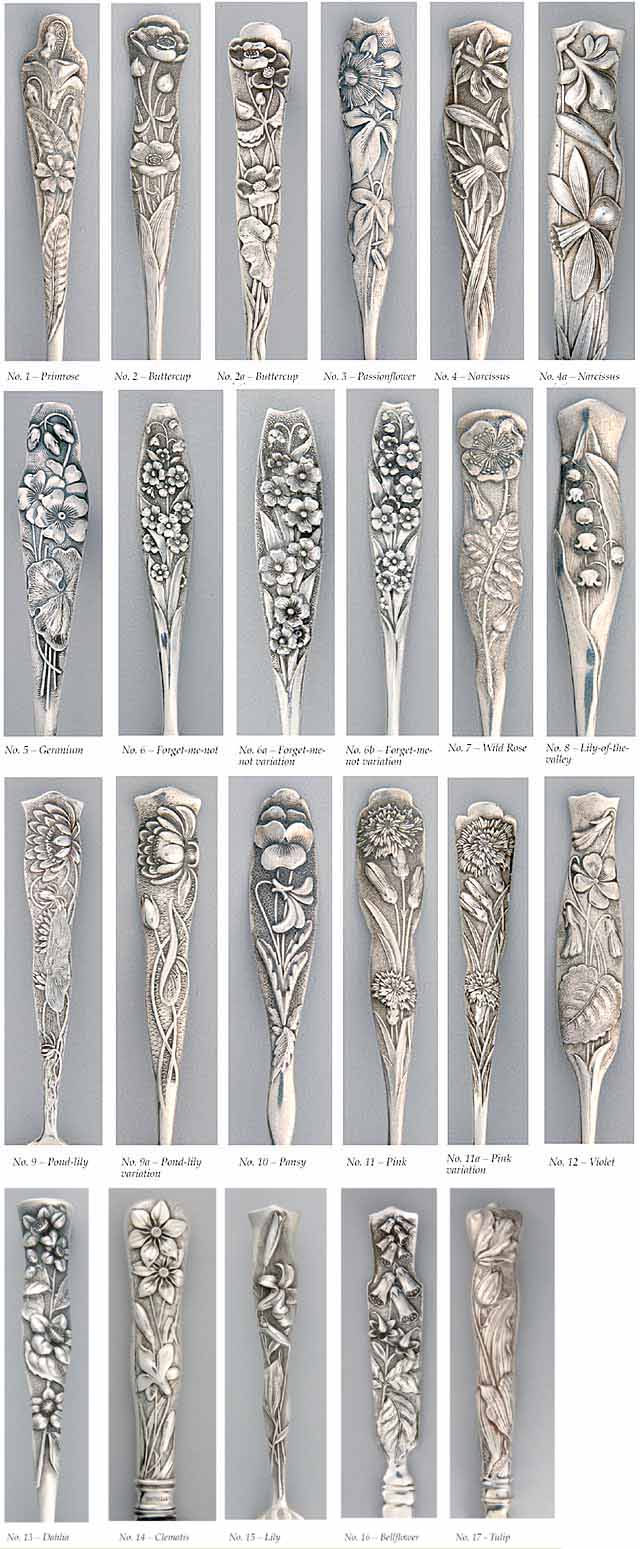 Fig. 1. Observed handle motifs (numbered) and variations thereof (numbered and lettered) in Shiebler's Flora. The designations here correspond to those in Tables 1 and 2. The images are not all at the same scale, some having been enlarged and others reduced. Unless otherwise credited, all photography is by Thomas R. DuBrock, and the illustrated flatware is from the collection of Robert and Carol Carnighan.
IP: Logged