ellabee
Posts: 306
Registered: Dec 2007

posted 10-26-2008 02:49 PM



---
This past week I've been having fun obsessively searching through the online patent database. (To look for flatware patents in 1859, for example, use the string 'ccl/D7/$ and isd/1/1/1859->12/31/1859', then use the search by patent number to look at the images of patents whose current class is D7/653 or /661 or /662.)

Among the most intriguing finds were patents by Alonzo Hebbard of New York City. Pieces made in his patterns and retailed by Tiffany are shown in figures 29-31 of William Hood's Tiffany Silver Flatware: When Dining Was an Art. Hood describes them as "attributable" to George Sharp, and they are indeed Sharp-like, but the designs are Alonzo Hebbard's (patent #3616, 1869; #3053, 1868; and #2664, 1867).

But who produced the pieces, and why have we never heard anything about Alonzo Hebbard? My first thought was that he must be related to Henry Hebbard. The only reference online to Alonzo H. is his brief obituary notice in the July 31, 1887 New York Times; he was 60.

Another intriguing hint is in the Hood Tiffany book, in Fig. 17: spoons in a 'Mask'-like pattern marked 'H.H. pat. 1859' and 'Tiffany' appear to be Alonzo Hebbard's first patent, #1320 in 1860, which was assigned to Gale & Willis. (I'll add images tomorrow, but the computer on which I've saved them is unavailable.)

Does anyone know anything more about Alonzo Hebbard? Was he a maker as well as designer? What was his relationship, if any, to Henry Hebbard?

[This message has been edited by ellabee (edited 10-26-2008).]

IP: Logged
bascall
Posts: 1626
Registered: Nov 99

posted 10-27-2008 01:28 AM



---
As always this can be taken for what it's worth. Thus far there has been no biographical sketches found of the two gentlemen, but that is not to say there isn't something around.

It would be amazing if Henry and Alonzo were not somehow related, but there is nothing so far that I have uncovered that positively connects the two other than their surname and birth state. Both were designers as well as silversmiths. Henry seemed to have pursued the production path, and Alonzo appears to have become a designer and modeler. The Henry C Hebbard that had been a witness for a Henry Hebbard patent was probably his son.

Henry was born in New York in 1815, 1819 or 1820 (the first year given was 1815 which is the one I tend to lean towards as a rule?) and Alonzo was also born in New York in about 1827.

Alonzo's brother Nathaniel was also a silversmith. The widow of a Nathaniel Hebbard appears in the 1857 New York City Directory. Henry Hebbard is in the same directory.




IP: Logged
ellabee
Posts: 306
Registered: Dec 2007

posted 10-29-2008 12:32 AM



---
Thanks for that info, bascall. There may be no connection with Henry Hebbard. I was mistaken about the unknown 'Mask'-like piece marked for Henry Hebbard shown in the Tiffany book being Alonzo Hebbard's 1860 patent #1320. I think it's just a slightly different version of Henry H.'s 'Mask', one that he may have intended to patent, but didn't.

Here are the A. Hebbard designs retailed by Tiffany that Wm. Hood semi-attributed to George Sharp: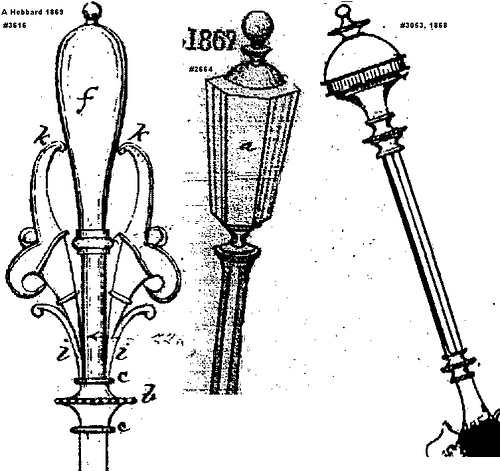 IP: Logged
nutmegr
Posts: 58
Registered: Jun 2005

posted 10-30-2008 09:38 AM



---
I wanted to share these spoons, they appear to be the third pattern above. I had always assumed these were George Sharp because of the hexagonal shaft and the ball finial - although in some ways I like these better than the plain ball finial in my marked G.S. sifter.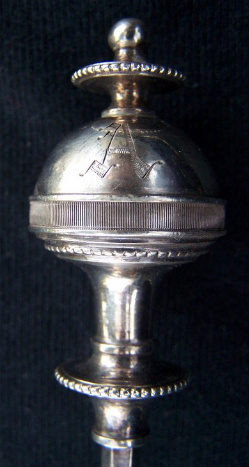 The following marks are on the larger spoon, the egg spoon is marked the same except for the retailer.

---------------
Lisa
IP: Logged
ellabee
Posts: 306
Registered: Dec 2007

posted 10-30-2008 09:27 PM



---
How exciting, Lisa! Thanks so much for those images.

That's just how the 'Domed' (my name for the pattern) piece in the Tiffany book is marked: 'patented', with no year. That one has a figural bird at the top of the dome, but is still clearly the same pattern. Yours is exactly like the patent drawing.

IP: Logged