Paul Lemieux
Posts: 1768
Registered: Apr 2000

posted 03-21-2009 04:15 PM



---
In reading the Gorham Hamburg flatware and holloware thread just now, I was struck by how the design of that pattern seems to be surreal/illogical (and ahead of its time). I tried to think of other comparable examples in 1880s American silver and only came up with two examples: that weird Vansant pattern and a Frank Whiting pin I have.

This is the Vansant pattern, ca 1885: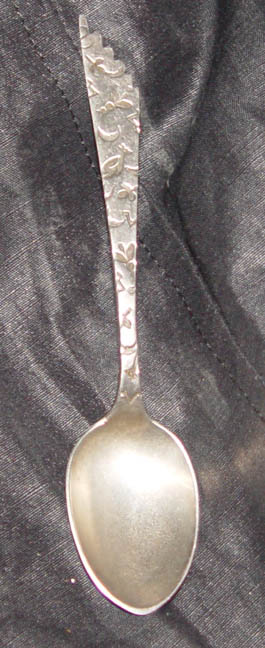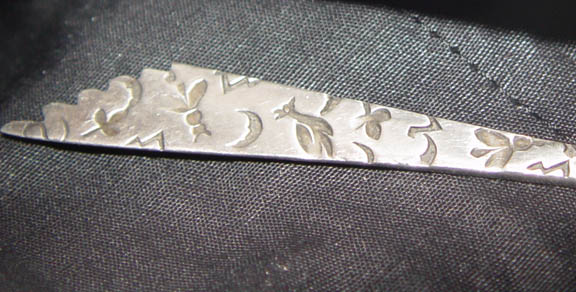 It just features sundry stamped designs, like flies, crescent moons, leaves, etc. This is merely a coffee spoon, but some larger pieces also have Shiebler-like "Homeric" medallions (Don Soeffing, in his medallion book or some article, suggested mystical inspiration for this pattern, but I do not believe that).
Here is the Frank Whiting pin, also about 1885: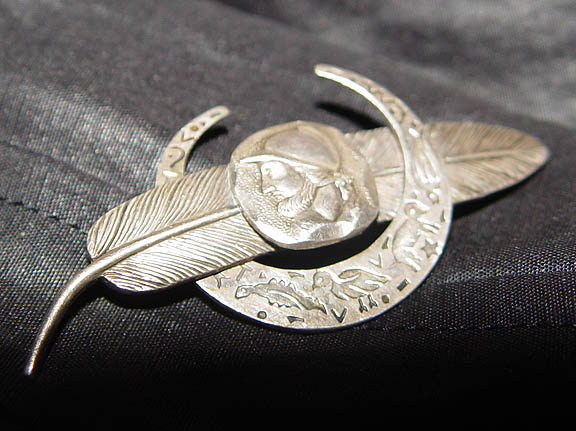 This pin is just bizarre--a feather, a medallion, and a crescent, which is stamped with zigzags, a dinosaur(?), a manatee(?), a bird, etc. Some of the other stampings have a tribal feel.
I don't think these designs are as well-executed, visually (and for that matter technically: both of these pieces are fairly lightweight), as Hamburg. Sometimes less is more. I like the Whiting pin, but really, it strikes me as over designed, just throwing as many motifs together as possible. Still, it has a surreal quality with the strange melange of imagery.
Anyway, does anybody have similar examples to share? Or thoughts about the artistic/historical origins of this use of random stamped images? Did the makers/designers have a specific vision, or were they merely trying to throw together numerous disparate motifs (I suppose those two aren't necessarily mutually exclusive)?
Clearly this stuff wasn't very popular in its day as examples are quite hard to find now.
IP: Logged
Polly
Posts: 1939
Registered: Nov 2004

posted 03-21-2009 06:52 PM



---
I have a feeling some designers interpreted the Japanese aesthetic popular at the time as a jumble of random stuff. I have a silverplated brooch from the period that looks like the designer just took whatever element came to hand--a bug, a bird, some flowers, some stars, all in different scales--and stuck them together. I wish I knew where I put it.

I interpret your brooch as western elements (that classical face, the crescent moon) assembled in what seemed to the designer as a Japanese way.

IP: Logged
agleopar
Posts: 847
Registered: Jun 2004

posted 03-22-2009 04:22 PM



---
When I first was introduced to Shiebler Medallion, (recently in my design education, thanks to these very forums!) I could not reconcile what I saw as abstract 1960's -esque squiggles, lightning bolts, hash marks (see R. Crumb) etc, not found in Japanese art, combined with rough forging and non linear forms they really wowed me for their complete freedom and departure from the norm.

I was very familiar with Japanese art and its influence on the west both here and in Europe as relates to silver in the Japanesque Aesthetic Movement represented by the Great Gorham Fish set in the Hamburg post.

Obviously Medallion has very little to do with that influence and every thing to do with it. By that I mean that the Japanese work freed the west from things like frames, straight or balanced lines and an infatuation with perfection of surface (perceived perfection...).

But after much thinking (I am slow about these things, so jump right in with corrections and education – please) it seemed that Medallion in its self is a getting away from something now "old" and ironically it went with something much, much older. Or at least the late Victorian idea of old Greek i.e. just dug up from the ruin. So what I saw as surreal pre hippie (go easy on me) free graphics was just an interpretation by another age of another age.

Use me, as the "everyman" to look at Hamburg i.e. what are we missing that they might have assumed. Is it truly the "free" design I first took Medallion for or is it a bad interpretation or a combination of things.

The dies for Hamburg could be struck anywhere. Has any one seen them used more conventionally, especially in older work – these could have been sitting in a drawer from a past project (s), sometimes they seem to be out of proportion to each other as though they were made for other uses (do the same bugs show up in the earlier Japanesque)?

IP: Logged
Paul Lemieux
Posts: 1768
Registered: Apr 2000

posted 03-23-2009 02:15 AM



---
I think the idea behind Shiebler's Etruscan pattern (his 1880s medallion work) was to create pieces that looked as though they had been unearthed at Pompeii. Hence the faux cracks, rough surfaces, irregular silhouettes, etc. that we see on the pattern. The motifs themselves aren't Japanesque per se (some of the more geometric accent work like sprials and squiggles, usually seen in small quantities inside those faux cracks, perhaps came from Japanese sources; however, other engravings resemble stylized Neoclassicism). However, the overall aesthetic certainly is Japanese-inspired (i.e., finding beauty in the "ugly", damaged, or imperfect).

I'm not too surprised that Shiebler introduced this irregular, asymmetrical style of silver with neoclassical medallions. For one reason, Shiebler had acquired 1860s medallion dies from other companies he bought out, and I think several of those were reused for the Etruscan line, so presenting this new idea of distressed silver with medallions may have partly been a matter of convenience (i.e., already having those dies on hand). For another reason, trends in popular design in many media are frequently cyclical, with perhaps a context change to update a motif. For instance, medallions enjoyed popularity in highly neoclassical silver of the 1860s, and then in the hammered/beat-up Aesthetic silver of the 1880s, and then Shiebler among other makers brought them around again circa the turn of the century in Art Nouveau style jewelry. Another example is bugs/sea creatures, which followed an almost identical trajectory during those years--one sometimes sees 1860s pieces with cast 3D beetles, lobsters, etc., usually on plain handles, executed with the same precision as medallion/bust flatware of the period. Then the 1880s saw the critters generally in more naturalistic, Japanesque contexts such as among leaves or seashells. Then they came back in more stylized and "prettier" forms for Art Nouveau (like graceful dragonflies in lieu of hideous beetles, although I prefer the latter by far).

Hamburg is an example of a pattern similar to Shiebler's Etruscan in that it celebrates asymmetry and showing signs of "incompleteness" (i.e., hammer marks, uneven edges). I have never seen the Hamburg animal motifs in earlier or later silver, so I would guess the dies were created for that pattern and its associated hollowware. That the frames surrounding each animal differ in shape and size makes sense; if they were all the same, the design would look more stilted. Shiebler is widely or universally thought to have created that Etruscan look for silver, and it was fairly influential, as lots of other makers (e.g. Frank Whiting, Knowles, etc., etc.) imitated it. Shiebler and the others also used the style in non-medallion silver. Sometimes it would feature different motifs, and sometimes the irregularities and hammer marks themselves served as the only ornamentation.

The Vansant spoon above is related, due to its asymmetrical handle and randomly and sometimes incompletely stamped images, although it lacks the heft and rough-hewn appearance of the hammered pieces. The design of the Whiting pin above just confuses me; it has the Etruscan style medallion, the randomly stamped images, and that confounding feather. The more I look at it, the more it looks like a jumble of random stuff and fails to impress me. I have had silver plate brooches similar to that which you describe as well, Polly.

Re: agleopar ("Is it truly the 'free' design..."), I am going to post my my thoughts about that in the Gorham Hamburg flatware and holloware thread as they are more appropriate there and don't really relate to the pieces I posted above (and my reply here is already long enough).

IP: Logged