bassbear
Posts: 2
Registered: Jul 2006

posted 07-03-2006 04:35 AM



---
[26-1127]

Hello all, I'm new to the forum and I thought I'd jump right in with a question about gilding, or more precisely re-gilding. I'm one of those who collect silver to use as well as display. My weakness is for Gorham's Plymouth pattern, which I only recently discovered was sometimes gilded on the interior surfaces. All the pieces I have collected up until now have been gilt-free (excuse the horrible pun) that is, until the aquisition of a pair of salt cellars. I'm hoping the photo will post...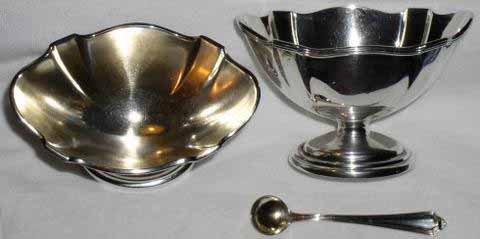 The cellar on the right is 3 years older than the one on the left, and has lost all of its gilding. The cellar on the left still retains some of the gold and even matches the gilding on the bowl of the salt spoon. I've seen how salt can pit sterling, and I'm curious if there's any concensus here on the merits of having silver re-gilded for functionality. I intend to use these cellars for dinner parties, if not for every day use. In the meantime, I've coated the both of them with microcrystalline wax polish, in the hope that it will provide a non-toxic barrier against corrosion from the salt. Any suggestions?
IP: Logged
SusanT
Posts: 104
Registered: Nov 2005

posted 07-03-2006 07:34 AM



---
Bassbear,

Welcome to the forum.

I'm sorry I really haven't any good advise for you on whether or not to redo the gold wash. I can only say what you already know that salt can pit the silver. I guess it would depend on the cost.

--- Susan


IP: Logged
FredZ
Posts: 1069
Registered: Jun 99

posted 07-03-2006 04:40 PM



---
Salt cellars are often gilded to protect the silver. Sodium Chloride is corrosive to silver and if left for a long period of time it will pit the silver. The gilding is intended to prevent this.

Fred

IP: Logged
salmoned
Posts: 336
Registered: Jan 2005

posted 07-05-2006 06:22 PM



---
Thre's no need for gilding, other than eye-appeal, as long as you don't STORE salt in the cellars. That is, they should be cleaned, along with the rest of one's eating utensils, after every meal.

IP: Logged