posted 11-12-2010 09:31 AM



---
After joining the Silver Forum I noticed in several posts about Gorham flatware that the company used both patent and copyright laws to protect their flatware designs. That caught my attention because until then I had not noticed the use of copyright marks on sterling flatware, and I wondered why they used both systems and whether other companies also did this.

Additionally, I noticed the copyright discussions seemed to be in posts about patterns designed by Antoine Heller. Since I had several dessert spoons in his patterns, I became curious about what might be on my silver. So I did a survey of the marks on all my sterling flatware. At the end of this very small survey of just my flatware, I can make two observations:
1. Gorham may be the only company to have used the Copyright laws to protect (some of) their designs.

2. And, they may have used Copyright laws for only designs by F. Antoine Heller.
Here is what I found in my silver drawer that lead me to these conclusions:

Gorham:
14 patterns by Gorham: 6 marked as being patented; and 3 marked as being copyrighted – all 3 being Heller patterns.

Of the 6 Heller patterns I own: Fontainbleau, his first pattern for Gorham, has neither a patent or copyright mark. Old Medici, Cluny and Versailles are the 3 with copyright marks. And, St. Cloud and Florentine are the two patented designs: St. Cloud, with patent D16688 granted to Walter Wilkinson in May 11, 1886 and Florentine,
with patent D34646 granted to Florentin A. Heller June 11, 1901.

It was interesting to me that the Carpenter Gorham book did not list Florentine as a Heller design, and also that Heller had left Gorham and returned to France when he made this application.

FYI and to break up the text, here are my 6 Gorham dessert spoons in Heller designs: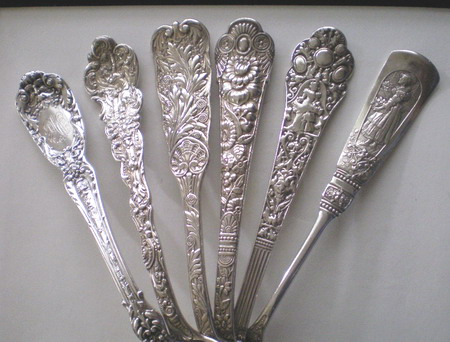 From right to left: Fontainebleau (introduced in 1882); Old Medici (copyrighted 1883); Cluny (copyrighted 1883); St. Cloud (patented 1886); Versailles (copyrighted 1888); Florentine (patented 1901)
Additionally, I have seen another Heller design, Coligni, listed for sale online and they show it also has a Copyright mark. I have not yet discovered whether the other Heller designs might have been copyrighted, but I don't think any more were patented.
Other Gorham patterns I own which are marked as having been patented are Empress, Buttercup, Cambridge and Old French.
Other Makers – I also found patent marks on 9 patterns by other makers and none with a copyright mark:
Tiffany: 4 patterns (Italian, Lap Over Edge, Hampton, and Palmette)
Durgin: 1 pattern (Fairfax by Durgin, prior to being taken over by Gorham)
Shiebler: 1 pattern (American Beauty)
Whiting: 1 pattern (Empire)
Theo B. Starr: 1 pattern (Bird/Japanese pattern which I believe to have been made by Biederhase & Co. as they did receive a patent for this pattern (D 5876) May 28, 1872. My fork handle appears to match the Biederhase Bird pattern as shown in "Silver in America" by Charles Venable, p.138)
Unknown maker: 1 pattern (It is marked but I could not find a match in Rainwater's book, so it remains unknown to me.)
After this admittedly limited review, I am fascinated that the only pieces marked "Copyright" were Gorham Heller patterns and it makes me wonder – is my survey accurate? Or, are there other patterns by Gorham and/or other companies that were copyrighted? If not, why did Gorham do this? Why copyright only his designs and only some of them?
Thanks for any and all suggestions that any of you can make to verify, invalidate, or explain my "observations".
Elizabeth
IP: Logged