posted 08-13-2007 12:10 AM



---
[26-1475]

I purchased this ladle five or six years ago and have been trying to figure it out ever since.

The dealer had it marked as silverplate, but I'm not too sure about that.

What has me puzzled is that someone has taken the trouble to obliterate the marks on the back. The only readable mark is that of the retailer, C. L. Ruth. There are two other inset squares where markings used to be.

I had thought about using that liquid that was sold to make dates visible on coins, but I think I read on posts here along the way not to do that.

I may have had good luck with the retailer. According to a post on Rootsweb that cites "Notable Men of Alabama" (published in 1904), Charles Leonidas Ruth was born Jan. 17, 1841 in Shelbyville, Tenn. and learned the watchmaking trade from his father.

After the Civil War he moved to Montgomery Alabama, where he worked for other jewelers until 1873, when he established business for himself. He built up his business to become one of the largest in the South at that time.

I have easy access to "Notable Men of Alabama" at work; I mean to double check those facts.

Anyway, I was hoping someone could make out enough of the marks to help me.

I've really grown to love this ladle, and I use it as a punch ladle with a 14 inch Revere bowl. They look great together, and there is no fear of the ladle falling into the punch! It is 13 1/4 inches long, and the bowl is 4 1/4 inches long. It is monogrammed with an S.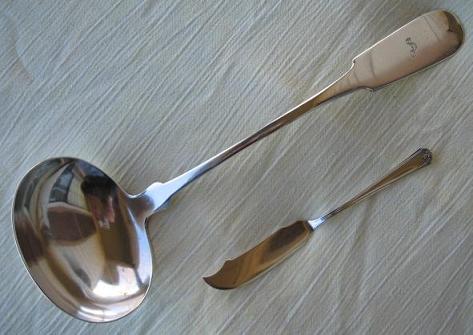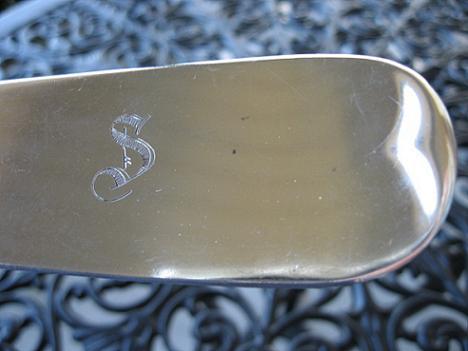 IP: Logged