chase33
Posts: 362
Registered: Feb 2008

posted 03-24-2010 12:25 PM



---
[26-1972]

I would greatly appreciate any help in trying to find the patent number for Gorham's Trilogy pattern (the sterling not the stainless version). It was introduced in 1969 and I have tried my best to find the patent at USPTO using their search function ( I used ccl/d7/$ with ISD/1/1/1969->12/31/1969 and then other years back to 1967).

So any ideas or pointers?

Thanks

Robert


IP: Logged
ahwt
Posts: 2173
Registered: Mar 2003

posted 03-25-2010 10:58 AM



---
I do not know what the Trilogy pattern looks like, but you could try the Google patent search function and search by assignee. I think that Textron was the parent company for the time you are looking for, but you may also want to try Gorham. Check the box so that you only call up design patents.

IP: Logged
chase33
Posts: 362
Registered: Feb 2008

posted 03-25-2010 08:35 PM



---
Sorry about not posting a pic! Here is the pickle fork:

and here is a detail of the handle design: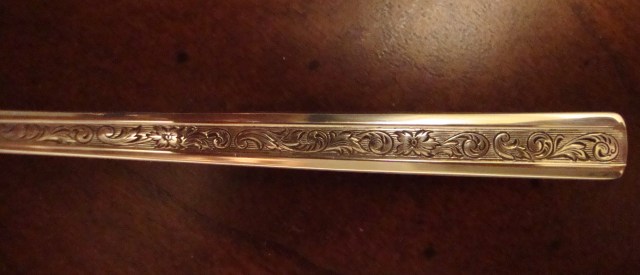 I tried the google search and it really needs a lot of refinement before it will be truly useful. But that said, the closest I found was this:
which is very similar but curved rather than straight. SO I am guessing that the designer is James Russell Price. Any info available on him?
So the search continues...
Robert
IP: Logged
ahwt
Posts: 2173
Registered: Mar 2003

posted 03-26-2010 10:39 PM



---
[<gone from the internet> owlatthebridge.com/info17.asp]
The Owl at the Bridge has a roster of Gorham craftsman and included below is some information about Mr. Price.
quote:

---

Price, J. [James] Russell

1907, 8 July born York PA, son of Charles W. Russell & Ruth N. Sherfey;

1930 student at Maryland Institute of Fine & Applied Arts, won three first awards in Gorham Design Competition; 1934 taught jewelry design at evening school, RISD

1935 hired, Gorham, Director of Design

1937 instructor, RISD; wife Caroline A. Clarkson

1940 design of Lyric flatware pattern based on wife's hair style

1941 designer, Gorham; instructor, RISD

1952 designer, Gorham; designed flatware pattern Golden Snowflake; 28 Feb. resigned effective 4 Sept. but salaried consultant while Director of Design, Royal Doulton China Company, England

1963, 4 Dec. Director of Design, Gorham

1964 designed set for Shah of Iran. Charles Brandreth says Price had him work initials 'JRP' 'WGD' (for 'World's Greatest Designer') into design near Shah's head

1969 named Vice President of Design, Gorham

1971, 1 June-1 Oct., sick leave after heart attack. Among Price designs are Melrose, Camelia, King Edward, Gossamer, Hispania

1973 retired, age 65

1974, 27 Oct. died, age 67 years 3 months 9 days, heart attack

---
Searching utility patents using key words can be straight forward on a computer database; however for design patents it was much easier in the old days when all the patents in a certain class and subclass were kept in a set of boxes numerically arranged. One simply took the boxes (affectionately called shoes by the examiners) to a search room table and thumbed though the patents while looking at the drawings.
IP: Logged
Kayvee
Posts: 204
Registered: Oct 2004

posted 03-27-2010 09:21 AM



---
I can't help on the patent but have some information about this type of pattern design. Jewel Stern states that "The use of dense decoration on simple handles of contemporary shape was a design strategy of the 1960s and early 1970s." Chapter 14 of her wonderful book Modernism in American Silver describes this design trend in more depth. She does not mention your pattern specifically.

IP: Logged