posted 08-08-2010 06:07 PM



---
[26-2018]

This is a little story about something I have recently learned that is of particular interest to me because of one area of my collecting. I learned this due to the detective skills of a good friend. Hopefully, it is of interest to others on this forum, and if it is something everyone but me was already aware of, then please forgive.

When the Carpenter book about Gorham came out, I was fascinated by the work of Antoine Heller and decided to fill the gap in my collection of dessert spoons by focussing on his designs. At the time I also found that I already had a few of them, and over the years added a few more, until I had five of his patterns.

The Carpenter book discussed 10 patterns by Heller, starting with Fontainbleau in 1882 through Mythologique in 1894.

Now, thanks to the superb research skills of my friend, it seems there was one more pattern by Heller for Gorham, and it seems to be the only one that was patented in his name -- at least that I can find. That is Florentine.

My friend got interested as I talked to her about the Heller patterns and how it seemed that few if any were patented and the one I knew was patented, St. Cloud, was not in his name, but Walter Wilkinson. She went to work and uncovered a patent issued to Heller June 11, 1901. When I looked at the patent and then all the illustrations in the back of the Carpenter book I realized it was Florentine, and how appropriate given his first name was Florentin. (the F in F. Antoine Heller). The patent number is D34646 for anyone who wants to see it. Interesting to me was the fact that when he applied for the patent he was living in France.

Of course I wanted to add one to my collection of dessert spoons and have been able to do that. Here are some pictures of what I think is a wonderful pattern. I especially like the depiction of the North Wind at the top of the terminal, and the elaborate back of the bowl where the Gorham marks afe -- along with a B in a circle similar to a V in a circle on my Versailles spoon.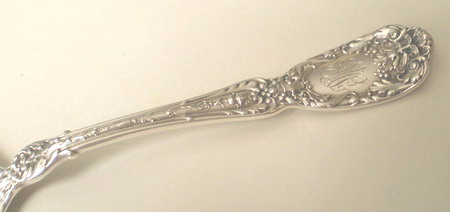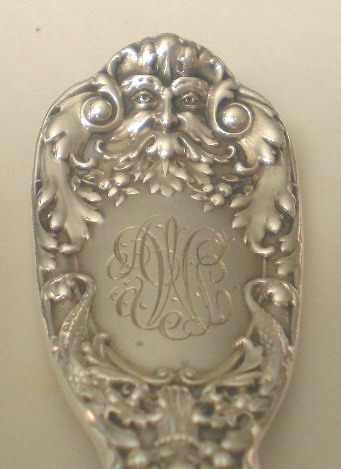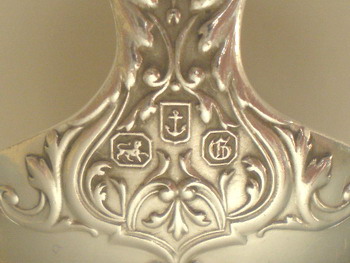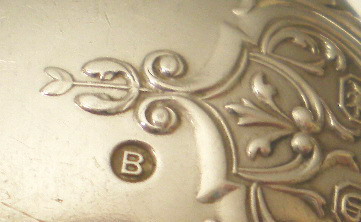 Elizabeth
IP: Logged