Brent
Posts: 1502
Registered: May 99

posted 03-14-2001 09:35 AM



---
[01-0318]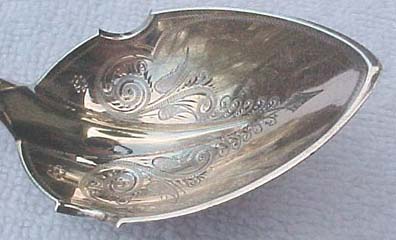 This spoon has been a mystery to me ever since I first bought it. It is about the size of an oversize teaspoon or a sugar spoon. The bowl is pointed, quite deep, and features "channels" on either side, as shown. The pattern is "Zephyr" by Wood & Hughes. Strangely, I have seen this same spoon about three times, always in Zephyr. Whether this particular design was only used for this pattern, I do not know.
Regardless, I still can't figure out the function of this spoon. I saw it called a sugar spoon by one dealer, but why the channels in the sides? Are they spouts for pouring out the sugar? Could it be a citrus spoon, and the channels are for pouring out excess juice?
It almost seems to me that some type of skewer or other implement might have rested across the spoon bowl as well. However, I still can't think of any reason to do that.
Any ideas? Does this spoon have a unique function, or is it merely an unusual style of a common implement? HMMMM!
IP: Logged
Scott Martin
Forum Master

Posts: 11377
Registered: Apr 93

posted 03-15-2001 06:09 AM



---
Brent,

Have you tried placing the bowl of the spoon facing down such that the "channels" rest on the edge of a bowl or cup and the handle on the table or across the bowl?


IP: Logged
Brent
Posts: 1502
Registered: May 99

posted 03-15-2001 09:44 AM



---
Great idea! Yes indeed, the spoon rests nicely across the bowl of a large teacup or small bowl, and the channels prevent the spoon from sliding off. The same is true when you rest the channels on the edge of the bowl and let the handle rest on the table.

I think you have determined the actual purpose for the channels: to keep the spoon from sliding off a bowl or cup. Now we just have to decide what the spoon was used to eat (or serve).

IP: Logged