Paul Lemieux
Posts: 1768
Registered: Apr 2000

posted 11-30-2003 11:37 PM



---
[01-1322]

Pictured is a beautifully engraved crest from a Whiting sterling child's mug.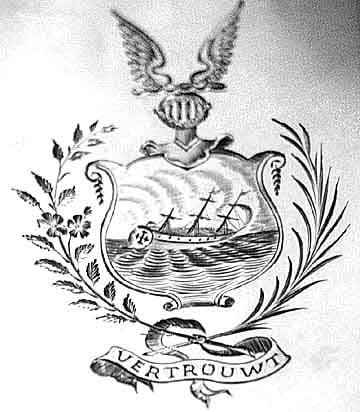 I would like to know if anybody can provide information about this crest. I tried searching the word "Vertrouwt" on Google but as expected, I only came up with a large number of Dutch websites.
The cup is also engraved as follows on the bottom:
Albert Tuttle Patterson
Aug. 10, 1897
from
T. Morris Perot
I searched these names and found no references to Patterson, but many hits for "T. Morris Perot". Here is a biographical sketch from Famous Americans :

quote:

---

Thomas Morris Perot

PEROT, Thomas Morris, merchant, born in Philadelphia, 8 May, 1828. He is the grandson of Elliston Perot, a noted Philadelphia merchant, and a descendant of Anthony Morris. He early entered the retail drug business, subsequently was graduated at the Philadelphia college of pharmacy, and in 1850 established himself in business as a wholesale druggist and manufacturing chemist, in which he has acquired wealth; but he is more widely known for his philanthropic works. Since 1861 he has been the president of the Mercantile library company of Philadelphia, and under his administration its library of 22,000 volumes has grown to 160,000. Mr. Perot bore an active part in founding the Woman's medical college in Philadelphia, the first institution of the kind in the world, and has been for many years its president. Since his youth he has been connected with various charitable institutions, and he is now in the directorship of many such in Philadelphia. He has been active in the struggle for reform in municipal affairs, was one of the organizers of the first Citizens' reform association, and became one of the original members of the Committee of 100.

---
According to another site, Perot died in 1902. If the cup's T. Morris Perot is the same man, then perhaps the cup was presented to a grandson.
Interestingly, I found that Pook and Pook auctioneers sold a 3rd quarter 19th century American oil painting depicting a schooner called "T. Morris Perot". Whether or not this has any relevance is something I don't know. The image can be viewed here: Morris Perot".
quote:

---


American School; Oil on Canvas Marine Painting, Ship Portrait, Schooner T Morris Perot.

An American [School] oil on canvas [marine] painting, ship portrait, late 19th century. The schooner "T. Morris Perot"....
p4A Item A097540
Category: paintings Origin: America
Type: oil on canvas Year: 1876 - 1900

---
I don't plan to sell this cup, but would still like to find additional information about it. Does anybody have suggestions about the crest, and whether the T. Morris Perot on the cup could be the Philadelphia figure mentioned above?
IP: Logged
swarter
Moderator

Posts: 2920
Registered: May 2003

posted 12-01-2003 01:58 PM



---
The motto is Dutch, from the verb vertrouwen:
quote:

---

Babylon Dutch-English

vertrouwen

v. trust, rely, commit, confide, depend, fall back on, look to

---
As expected, it is not listed in Fairbairn's Crests (English mottos are uaually in Latin), so the cresst is undoubtedly Dutch as well. A genealogical search of the owner's ancestry (or that of the presenter) may show Dutch forebears, from which this crest might be derived.

[This message has been edited by swarter (edited 12-01-2003).]
IP: Logged