Mandi
Posts: 2
Registered: Dec 2003

posted 12-10-2003 11:07 PM



---
[01-1334]

I came across two of these spoons in an estate we recently bought and I had to keep them because they were so unusual, but I haven't been able to find much info other than that they were made by Gorham. They have the Gorham hallmark on the back and the word Sterling. Each one measures 9 1/2" long. They're both exactly the same. Monogrammed on the back of the bowl part.

I posted a message on an auction message board looking for info and someone told me to post here.

Any info on the pattern name, or where I could find out more info (other pieces made, dates, anything like that) would be appreciated!
Links below - The pictures are pretty big, so I didn't want to include them in the post.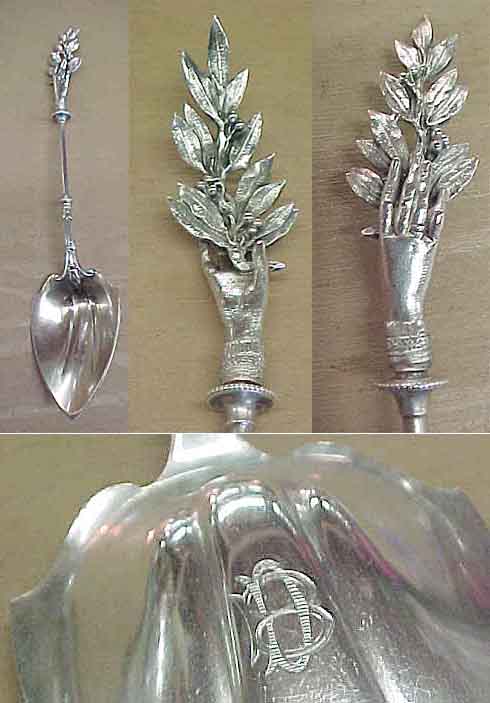 IP: Logged
Brent
Posts: 1502
Registered: May 99

posted 12-11-2003 08:57 PM



---
CFM is close.

This is a very rare pattern; only a few different pieces were made, apparently, and it wasn't made for long.

In the LADY'S pattern, the woman's hand forms the connection from the stem to the bowl. This variation, which is more unusual, is tentatively called "OLIVE BRANCH". There was a short blurb about this, as I recall, in a copy of the New York Silver Society newsletter some years ago. I will see if I can find it for you.

Anyway, your spoons are rare and unusual. You did well to keep them!

Brent

IP: Logged
Mandi
Posts: 2
Registered: Dec 2003

posted 12-11-2003 10:11 PM



---
Thanks for the replies.

I'd love to see the article if you can find it Brent.

IP: Logged