IJP
Posts: 326
Registered: Oct 2004

posted 12-24-2004 02:52 PM



---
[01-2039]

The Rainwater Encyclopedia of American Silver Manufacturers is the text I generally use to search for marks I don't recognize. It has a handy little index in the back of unlettered marks, such as those for Tuttle or Redlich. However, here I've got a mark that doesn't appear to be presented in the Rainwater text, so hopefully someone at the forum knows something about it. My immediate guess was maybe Wallace, since the stag image is used fairly extensively by them. But the Wallace marks employing the stage emblem seem to always be accompanied by letters ("RW&S," etc.) Also, this particular stag looks different from the examples in my text.

Does anyone have any idea what this might be?

Sorry if the photographs aren't perfectly clear, it was not an easy shot.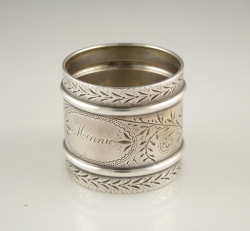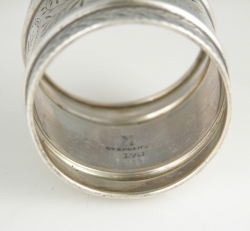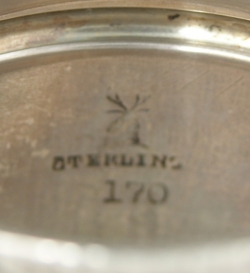 IP: Logged
Brent
Posts: 1502
Registered: May 99

posted 12-24-2004 06:40 PM



---
I don't have any proof, but I'm sure this is an early Wallace mark. Wallace's earliest sterling flatware, which is difficult to find, has an identical stag mark.

Good guessing!

Brent

IP: Logged