lisa
Posts: 63
Registered: Sep 99

posted 05-05-2004 01:15 PM



---
[01-1481]

I recently purchased these 3 silver overlay perfume bottles at a local auction, and wondered if anyone might give me any information on them?

Originally, the only marks I saw were 16B & 17C, which were etched on the crystal. When I was polishing them up I found what looks to be Gorham marks of S1821 (bottle on the left of photo) and S1832 (center bottle). "TLA" is also etched between the S1821 and Gorham marks, but didn't show up in my photo. There are no marks at all, that I can find, for the third bottle. The two bottles with marks are also monogrammed with AMR. The Gorham marks on the largest bottle look a little unclear (almost double stamped) and don't have the 900/1000 fine - maybe it has just been worn off.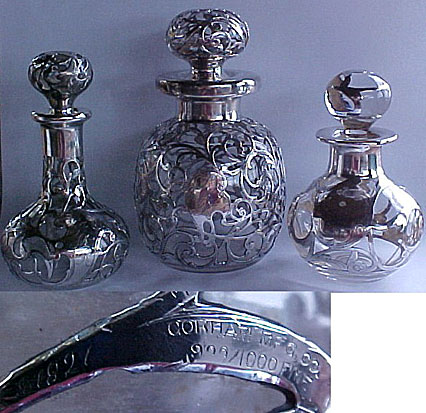 IP: Logged
Silver Lyon
Posts: 363
Registered: Oct 2004

posted 11-23-2004 02:18 PM



---
There is a catalogue -
'Sumptuous Surrounds - Silver Overlay on Ceramic and Glass'
by Jayne Stokes,
published by the Milwaukee Art Museum, 1990
It has an introductory essay and heaps of pictures -I am sure you will find it really useful.

IP: Logged