IJP
Posts: 326
Registered: Oct 2004

posted 03-31-2005 03:07 PM



---
[01-2282]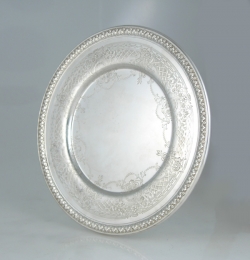 I looked in Rainwater, Turner, and Hagan, but was unable to find any definitive answer as to this mark, found on some bread & butter dishes. Shown below, it looks like perhaps a club symbol (as in the clubs suit in a deck of cards). It may otherwise be a stylized clover leaf. It is accompanied only by the word "sterling".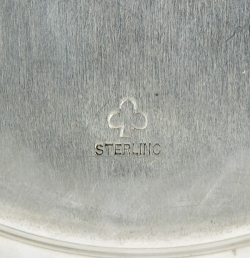 These plates seem especially heavy, each weighing at about 10 ounces troy. They measure about 8 3/4 inches in diameter. In light of their weight, and the detail in the engraving and chasing, I'm surprised that the mark of this manufacturer is not more widely recognized, if these items are representative of the quality of its work. These are as heavy (relative to size) as any piece of holloware from the best of American manufacturers.
IP: Logged
IJP
Posts: 326
Registered: Oct 2004

posted 04-12-2005 06:05 PM



---
Mysterious makers are some fun, aren't they? The bowl pictured below is very nicely made, but the mark is completely unknown to me. None of my books seem to include it. Anyone seen this mark before? What is that supposed to be?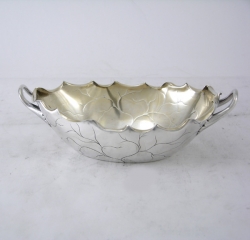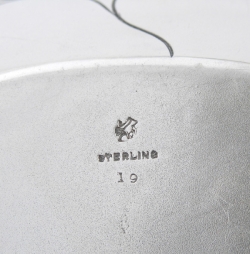 IP: Logged