posted 04-10-2013 11:15 AM



---
I wonder if anyone has any thoughts on this very cool Gorham presentation piece. It was acquired recently by the Peabody Essex Museum, and I have been working with the curator to try to research it.

Here's what we know: It was presented by the Beverly Yacht Club (now in Marion, Mass.) in 1897 to "Edith." The engraved 1897 date aligns with known information about the boat Edith. The date also conforms with the trident date mark on the bottom, which you can see here.

A mystery: In addition to the trident, there is an "M" mark, which looks like the date mark for 1880. I believe "M" was sometimes a designation for other purposes, but can't pin down anything that seems applicable here. Also, there is no production number, which seems unusual.

What is also unusual is the enameling, which is very beautiful and in excellent condition. The technique resembles the Martelé loving cup shown in Plate VIII of the first edition of Carpenter's "Gorham Silver 1831-1981"; that piece dates to 1900.

I am curious about the enameling. Gorham produced some pieces with enameling by Gustave de Festetics, as in a ewer for the Columbian exposition. But that style was vastly differently from this, and I have a hard time imagining that de Festetics did this work.

The body of this piece is lightly hammered, including chased "waves" in the Japanesque manner, with the exception of the area of the engraving. I don't know if that would have been buffed smooth for the engraving. Unfortunately, I don't have photos of the interior of the trophy, and it's a while since I've seen it; I'll try to post those in the next few days.

The form of this piece also intrigues me – the handles seem pure Colonial Revival, unlike many earlier presentation pieces I've seen.

It seems to me that there are two interpretations: (1) The piece represents a last gasp of Gorham's Japanese-inspired, Aesthetic period "Art" line (Carpenter says the Japanese influence was strong from 1870–1885), or (2) The piece draws on that past but represents the beginnings of new directions for Gorham and new directions in American decorative arts, namely the Arts and Crafts movement.

Because of the 1897 date of the piece, and because this coincides with the foundations of Martelé and a related emphasis on handcraft, I'm going with the second. Gorham started a training program in hand skills for its silversmiths in 1896, and I wonder if this was a result of that effort, perhaps done by a smith who had worked with some of the earlier Japanese influences.

Any ideas, opinions, disagreements? Any suggestions on further avenues for research? We'd be very grateful!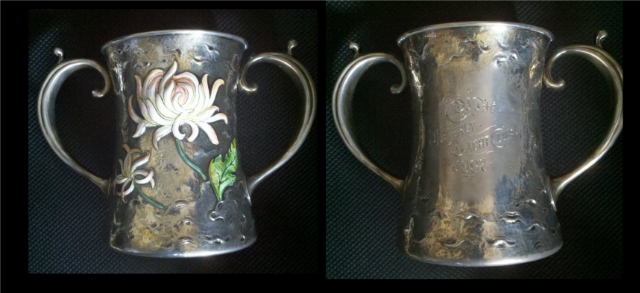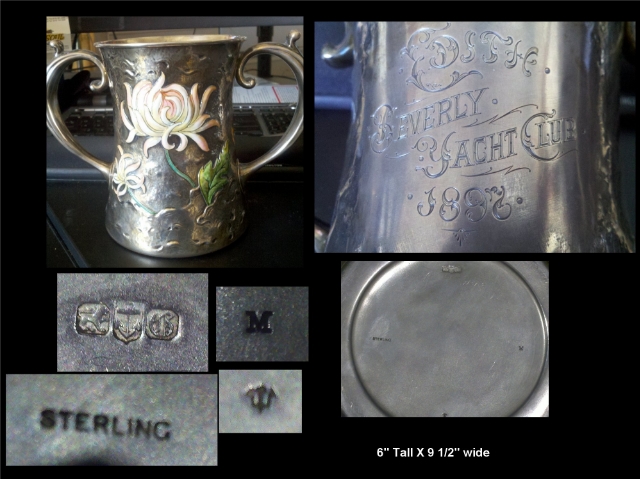 IP: Logged