steveinlanc
Posts: 5
Registered: Aug 2004

posted 03-08-2013 09:09 PM



---
[26-2376]

I have a bit of a mystery here. A beautiful Gorham sterling pin or calling card tray, early 20th century, in great condition (after polishing!), but plated over the sterling with gold wash or gilding.

Stamped Lion-Anchor-G, STERLING and B1620, it measures 7-1/16" long by 3-1/2". I've found a few of these out there in sterling that are otherwise identical, but none in gold plate. The photo doesn't show it well, but the marks are crisp and clear, and don't display the normal dullness that comes with post-factory plating or wash.

Has anyone seen another of these? Can anyone speak to it?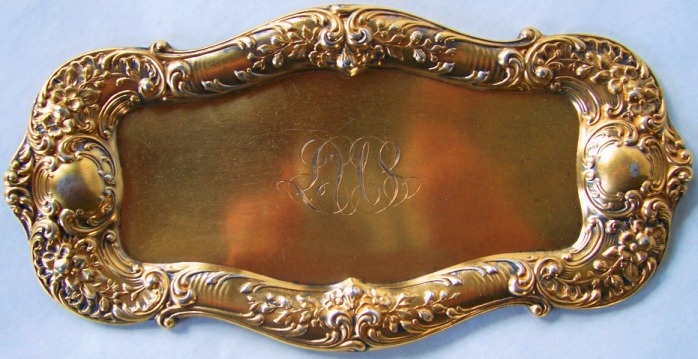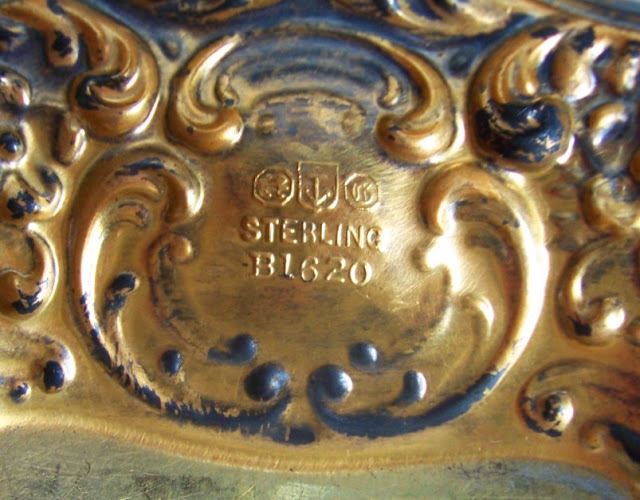 IP: Logged
steveinlanc
Posts: 5
Registered: Aug 2004

posted 03-10-2013 03:33 PM



---
Scott, technically speaking everything is business research, but I'm NOT seeking valuation. What I AM seeking is information, as this is an interesting variation of a known Gorham holloware piece that I can't seem to find.

I clean out houses and help folks downsize for a living, and I collect widely while also selling items not of great interest to me to make a living. It's a very interesting way to both bring in income and expand my collections through sweat-equity.

The piece comes from a multi-generation hoarder house clean-out, where it had been packed away since approximately 1920-1925. The house has been occupied by the same family since 1914, and was packed from the basement to the rafters with stuff of every description, although largely ephemera, dating from 1850 through 1950.

Oddly, this is, so far, the sole piece of sterling to come out of the hoard, and it's also puzzling because the mono doesn't match any family member or surname from the last 4 generations.

All that said, I'm thinking it's a keeper, and so I want to know more about it. Hope this helps.

------------------


IP: Logged