posted 02-19-2009 07:26 AM



---
[26-1805]

Hello,

I am a newcomer. I live in the UK and have a general (but not very knowledgeable) interest in old silver. I also collect button hooks and the occasional shoe horn and, like many others, have become particularly interested in items manufactured by Gorham. I have looked at Carpenter's book on Gorham Silver and the article on Gorham Marks on the "The Owl at the Bridge" web site, but still have not been able to interpret fully the production numbers used on some Gorham items. Can any Gorham experts help in explaining some of my specific examples?

Example 1 - 1383 M

The button hook is shown in the 1896 Gorham catalogue as part of the "Sterling Silver Toilet Ware - 1350 M Line". Does anyone know the reason why an "M" suffix was adopted?
Example 2 - E 2523 M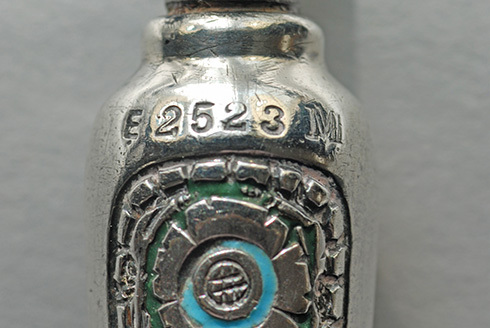 The handle on this hook has traces of enamel inlay. It is also shown in the 1896 catalogue (without enamel) as 2523 M, part of the "2500 M Line - Indian Chased". Is the "E" prefix a Gorham indicator for enamel, perhaps?
Example 3 - 3235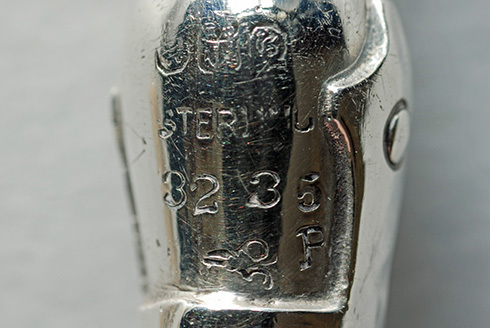 Is anyone aware of the reason for the additional "P" after the scissors (1907) date mark on the handle of this button hook?
Example 4 - B7-18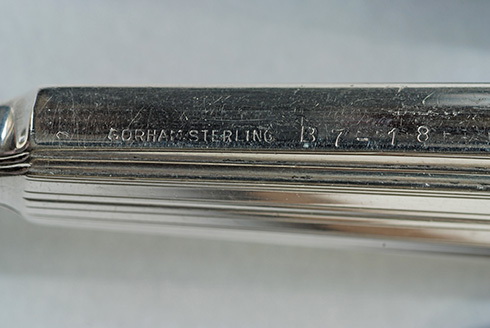 Does the "7-18" format on this hook have a particular meaning? I have also a matching cuticle knife that has the identical number. (Re. The Owl at the Bridge, I assume that the "B" prefix is the code added for the post-1898 production of dressing table accessories, etc, in Providence.)
Example 5 - C82 7500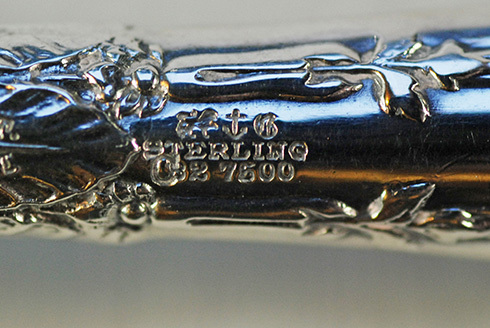 The letter "C" on this shoe horn has been stamped partly over the leading number "8". Again, although the C font is larger than that of the other numbers, could this still be a prefix to indicate post-1898 Providence production? Is there a significance to the "82 7500" style of numbering? The handle is also stamped "PAT. 1919".
Example 6 - 1-35C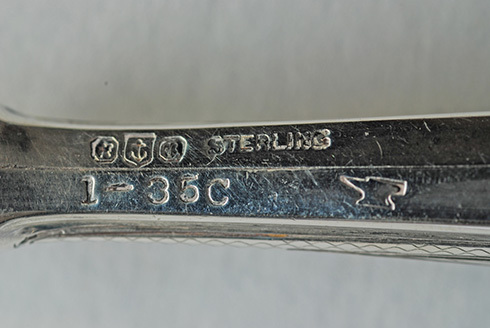 The mark on this button hook may be a similar format to Example 4 with the "C" as a suffix indicating New York manufacture. It has a 1921 date mark.
Any comments gratefully received!

IP: Logged