Paul Lemieux
Posts: 1768
Registered: Apr 2000

posted 06-23-2006 10:10 PM



---
Hamburg is a fascinating handmade pattern from about 1880-85. Handles have a partially twisted stem with a long, flat, hammered finial, which is stamped in random places with one or more various designs: bugs, faces, cows, fishes, and a host of other intriguing motifs. I did once see a pie knife with a line of stamped bird footprint-like shapes on the blade. All of the pieces I have seen have been stamped STERLING plus the "C" mark that appears on some of Gorham's handwrought ca 1880 flatware.

Below are five cocktail forks, each of which is stamped with two different motifs. My favorites are the grasshopper, the quartet of two shells, a snail, and a millipede, and the wide-eyed, shaggy-haired mutt.

During the 1880s, many makers, including Gorham, Durgin, Dominick & Haff, Shiebler, etc., experimented on flatware with large and often irregular planishing marks, giving pieces a primitive, rough-hewn appearance, which was often augmented by the uneven silhouettes of the handles themselves. I love this look, but have always thought Hamburg's additional stamped designs made it the most interesting pattern of the lot. Unfortunately, Hamburg is quite scarce and I have not found another piece since the cocktail forks.

By the way, can anybody suggest a reason behind the name "Hamburg"?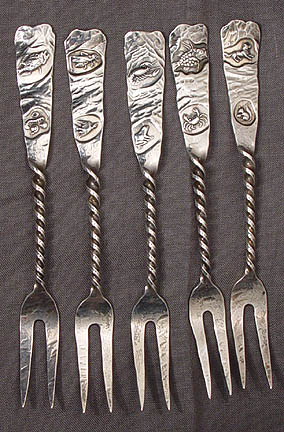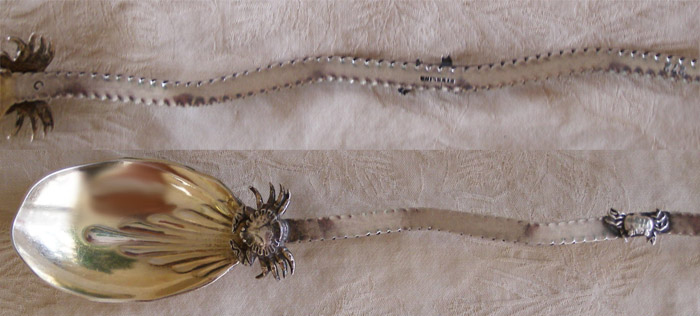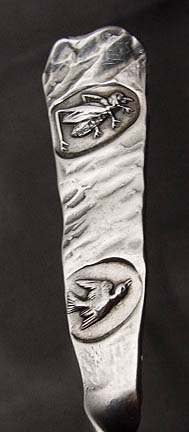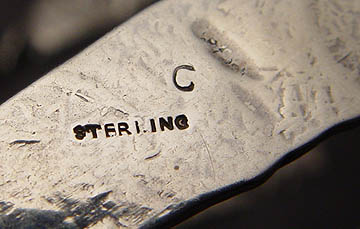 IP: Logged
Paul S
Posts: 32
Registered: Dec 2000

posted 10-21-2006 11:03 PM



---
Thanks for your post Bryan. I appreciated seeing photos of your Hamburg hollowware in the last silver magazine. It has always been an interesting pattern that has intrigued me. I didn't realize how rare it really is, since when I first came upon the pattern I found two different sets of cocktail forks within weeks of each other both at reasonable prices. I haven't seen a piece since until I came upon this olive combination fork which I think is also Hamburg.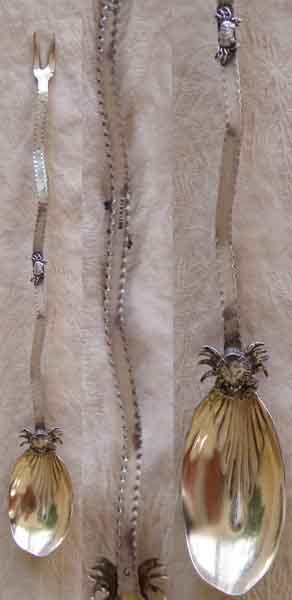 It doesn't have any stamped decoration, only the two applied crabs but the markings are the same as the Hamburg cocktail forks I have, and it also has the hand hammered finish & saw-tooth edges like the forks. (Different from the photo posted.)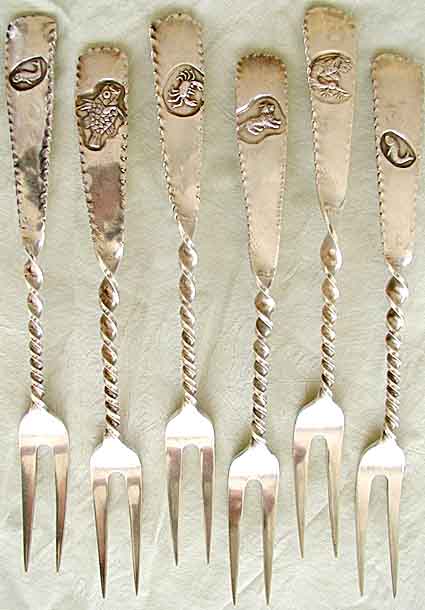 Question: Did Gorham use this unusual mark (I call it the Codman mark) on pieces other than Hamburg? Is the Hamburg pattern limited exclusively to the stamped decoration, or is some also applied or perhaps both stamped & applied. I have seen some Shiebler work (Homeric or Medallion) that has a similar style with more organic shapes and stamped decoration. Maybe it was a style that didn't catch on since both are what I consider rare in today's market.
IP: Logged
Cheryl and Richard
Posts: 154
Registered: May 99

posted 02-20-2014 06:52 PM



---
Back on June 12, 2008 Paul Lemieux said "at long last" a connction - a 'C' and Gorham's makers mark on the same piece.
Here we have two pieces that could have only been made by the same hand. However, one has the 'C' and the other is marked Gorham.
Compare the marks: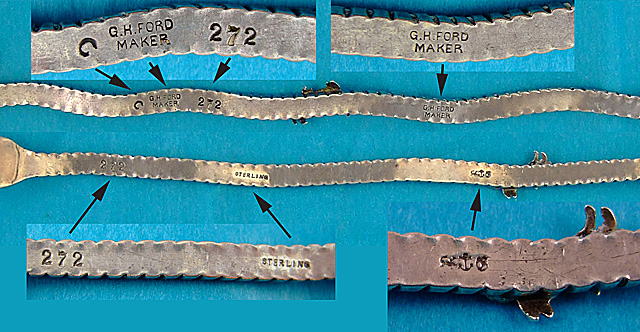 [This message has been edited by Cheryl and Richard (edited 02-20-2014).]
IP: Logged