Polly
Posts: 1964
Registered: Nov 2004

posted 03-19-2021 07:29 PM



---
Thank you, June! Let me know what you turn up.

There's one other moonstone brooch currently for sale online at the moment in a similar design, but it's more expensive than mine was, and the moonstone is a funny orange color. And there's another different-but-similar brooch showing up in the "sold" section of an antique shop's website. I wonder if Shiebler made any other types of jewelry with moonstones and twisted silver wire--bracelets, necklaces, etc. I've never seen any.

IP: Logged
Paul Lemieux
Posts: 1781
Registered: Apr 2000

posted 03-25-2021 08:49 AM



---
polly, i sold an example of the brooch shown below many, many years ago. obviously a very different style, more of a renaissance revival look. the prongs were 14k gold and the moonstone was about an 8mm sphere. i like your wire pieces better.

re: the other one you see online. some moonstone has orange tones and certain photography lighting/editing can amplify that. that one looks very pronounced though. the silver behind it may have changed color. if so a jeweler could take out the stone, clean the inside of the setting, and put it back. you could ask the seller if the orange is as pronounced IRL or if they can tell if the silver behind it is discolored at all.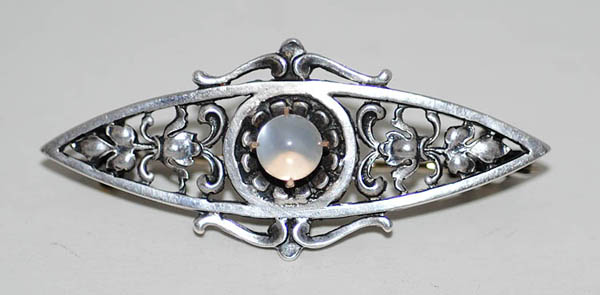 [This message has been edited by Paul Lemieux (edited 03-25-2021).]
IP: Logged
Polly
Posts: 1964
Registered: Nov 2004

posted 04-05-2021 05:45 PM



---
Thanks, Paul! That is a lovely example, and yes, a very different style. Shiebler made such a great variety of things, all exquisite.

IP: Logged
Polly
Posts: 1964
Registered: Nov 2004

posted 07-17-2021 11:41 AM



---
Oooo, June, I love that one!

It's so interesting, because that one has moonstones with reddish color and blue sheen (adularescence). I have a third one now, with a reddish coppery color and blue sheen. Orange moonstones do exist, but they look nothing like this. These ones are too transparent, and orange moonstones don't have blue adularescence. I'm pretty sure the reddish color is the result of the metal of the setting being gilded or copper washed, but the only way to know for sure is to take the moonstone out and examine the setting behind it, which I'm obviously not willing to do!

June, in the photo you posted, it looks like the backs of the settings are colored red rather than orange. Is that just the photo, or does it look that way in real life? And is there a model number on the back? (I'm assuming this is your brooch, not a photo from elsewhere--am I right?)

Here are photos that include my third one, some showing its orange color and some showing its blue adularescence.

In this one, you can see the blue clearly and almost no orange: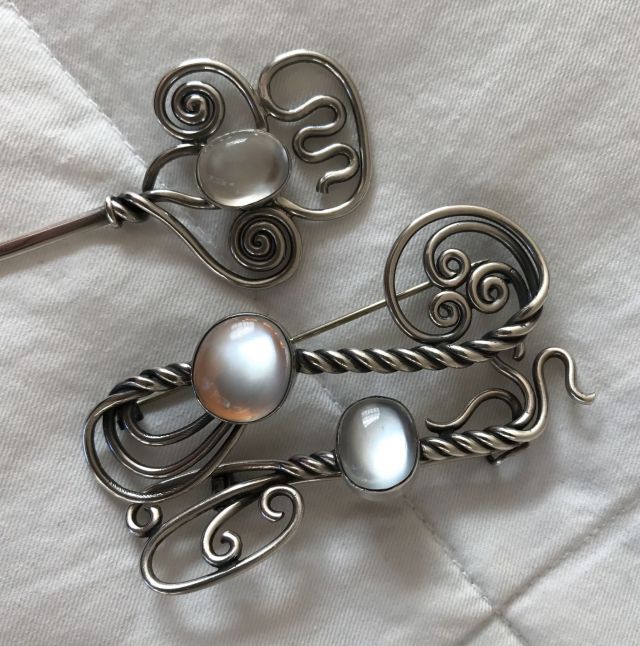 In this one, you can see the orange and almost no blue: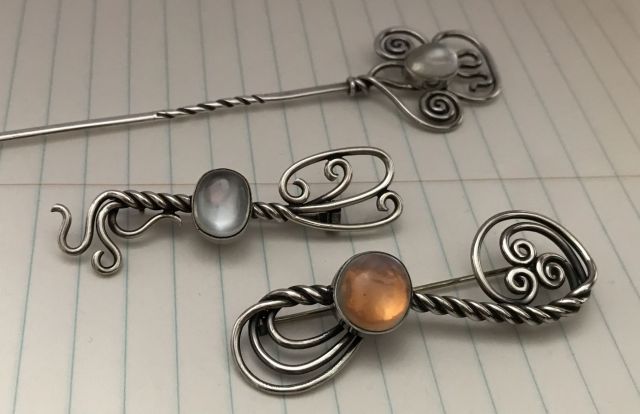 This one shows the orange clearly, with a little of the blue also showing at the top: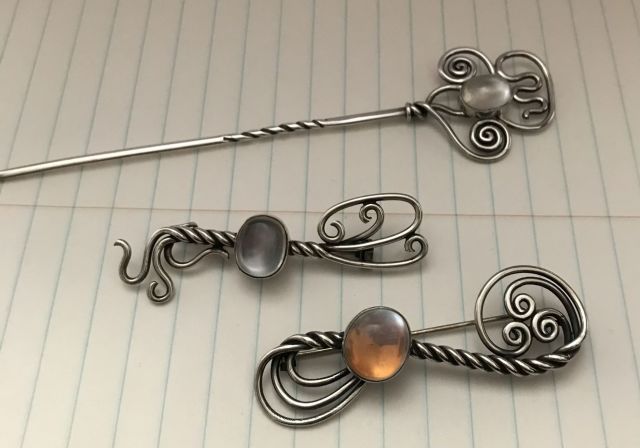 The backs. Some of the marks are on the backs of the moonstone settings, and the wires are soldered on top of them so you can't really read them very well any more, but they're there.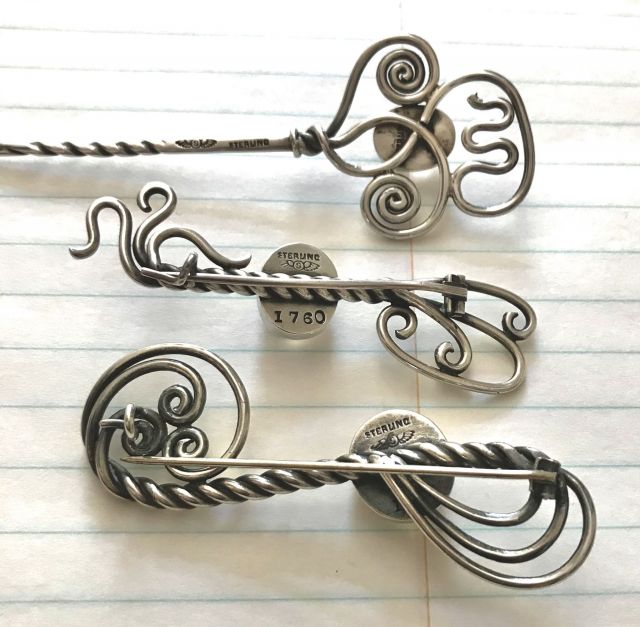 IP: Logged